GUIDELINES FOR PARENTS AND STUDENTS.
It is important to arrive on time for class; punctuality is a good habit which is to be encouraged. It is less disruptive for other students and a sign of respect to the instructors.
Due to changes in the child protection act it is important that parents ensure the instructor is present before leaving their children. We ask that you walk them into the hall and collect them from the hall, especially in the winter when it is dark. This is for the protection of the students from external sources and is very important.
The instructors are available should you wish to ask a question or speak to them on any matter in the strictest confidence. If there are issues which you feel are affecting your child then feel free to discuss them in confidence. We ask that you try where possible not to interfere with class time but come in before class instead - this can be arranged by phone if necessary.
From time to time extra activities are arranged such as training seminars, competitions and squad sessions. It is important that students participate in these where possible as they provide valuable extra work and are good for confidence and self esteem and are an important part of Taekwon-Do. They are also how champions are made - it's attention to detail and hard work, dedication, and a desire for knowledge that makes a good student a great one. Be the best you can be.
In order to be eligible to grade students must fulfil certain conditions. The most important one is not just to have the knowledge required for their grade, but also be able to perform at a level appropriate to their age and grade. We expect students to take on board corrections given in class and to work on improving technique. The instructors will asses each student before a grading and decide if they are ready to move on - if improvements have not been made then students cannot expect to move on. The instructor's decision is final and must be accepted by the student.
Students must be current on all fees in order to grade - this includes class fees, association fees and insurance. Monthly class fees are due at the start of the first class of the month.
Students must be actively training in order to be eligible to grade. The classes just before a grading are vital for revision as we cover a vast amount of material between gradings and we spend the time just before revising, assessing and correcting. Students are required to train for a minimum number of hours between gradings and this will vary depending on the age and grade of the student and will be influenced by other factors such as individual ability, flexibility and fitness as they move up the grades.
LOUGHREA TAEKWON-DO CLUB
Loughrea Taekwon-Do club was started in September 2005 and has built up a loyal group of students ranging from 6 years to adult. Classes are currently held in The Fun Shack, cottage hill industrial estate. twice a week on Monday and Friday - boys and girls 6 to 12 years from 6:30-7:30pm and advanced students from 7:30-8:30pm. Classes cost €45 per month for students. There is discount of €5 per month for second and third students from the same family. Association fees €25 for juniors and €30 for adults are due annually in September or at time of joining. Insurace fees €15 are due annually in September or at time of joining. The cost of the uniform is €50 and is available from your instructor and required for grading.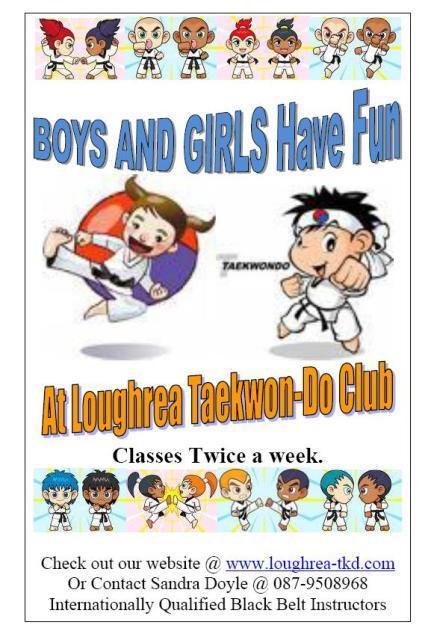 THE INSTRUCTOR : Mrs Sandra Doyle (3rd dan)
With a qualification in applied sciences and as a mother of three children, Mrs Sandra Doyle started Taekwon-do late in life in 2002. She quickly became enthusiastic about the art and through commitment and dedication, taking part in competitions and seminars whenever possible, she attained her first degree black belt in 2005, achieving the highest score of the 41 student tested at that grading. Over the years she has competed in numerous national and international competitions, winning various trophies along the way. Always keen to improve her knowledge of Taekwon-do, she has attended many seminars, instructor's and referee's courses. For a number of years she worked as assistant instructor in the Galway club under Mr Fitzgibbon but in 2005 Mrs Doyle opened her own Taekwon-do club in Loughrea where she teaches students from age five to fifty. Her goal in teaching is, through the correct balance of discipline and fun, to pass on her enthusiasm for Taekwon-do to her students. She is highly influenced by the "Do" (ethics and philosophy) of Taekwon-do, as demonstrated by some of the Taekwon-do Masters she has met and with whom she has trained, including Masters Ogbourne, Galaraga, Sahota, Maidana but particularly Master Choi with whom she has trained on 3 occasions. She was promoted to third degree black belt in 2010.
Notable achievements:
2003 IUTF Connacht Championships – Gold
2003 IUTF Munster Championships – Gold & Bronze
2003 BUTF English Championships (UK) – Silver & Bronze
2003 AMA Taekwon-do Open (UK) – Bronze
2003 IUTF National Championships - Bronze
2004 IUTF Connacht Championships – Silver
2004 IUTF Munster Championships – Bronze
2004 IUTF Leinster Championships – Bronze
2004 IUTF National Championships - Silver
2005 7th Open World Championships (Wales) – Silver
2006 European Championships (Germany) – Bronze x 2
2006 WKA World Championships (Spain) – Bronze
2008 IUTF Munster Championships – Silver x 2

Completed regular instructors and referees courses, first aid and child protection courses.
2006 International instructors course - Master Choi
2006 International referee's course - Master Galaraga
2008 International instructors course - Master Choi
2008 International referee's course - Master Galaraga

---
THE BENEFITS
Taekwon-do has many advantages for both adults and children. Not only the ability to defend yourself, but also it is commonplace, from the hours of training, to develop self-confidence, self-control, physical fitness, flexibility and grace, as well as a general feeling of well being. Unlike other sports, Taekwon-do may be practiced individually or in groups without weights or special equipment. Training does not produce bulky muscles. Instead it tends to exchange fat tissue for lean tissue. This results in overall toning of the musculature. The art teaches tenacity, concentration, and it is also effective in relieving tensions, stress and pressures caused by hours of study or work. It helps to refocus the mind and to remove mental obstacles. Taekwon-do can benefit anybody. It provides an outlet for the burning off of excess energy for children while instilling in them a sense of respect for authority. For the competitive at heart, much enjoyment can be gained from competing in tournaments (tournaments are not compulsory). Regular gradings help the student to set the goal of attaining the next rank and to give a sense of accomplishment to the student. Students may also find that their mental focus and concentration levels benefit them in other areas as well. Many people take up martial arts as a result of bullying or similar bad experiences, simply by knowing how to defend themselves allows them peace of mind and in almost all cases, they never need to use their new found abilities, as a heightened sense of awareness will allow them to avoid these situations. Basic training will teach you how to avoid physical damage in a confrontation by blocking, or evading a strike or intercepting an attack before it can reach full speed. Often trained martial artists do not need to harm their attacker - their adeptness at evading the attack lets them control the situation and frustrates their attacker. By learning how attacks occur and how to spot a potentially dangerous situation students learn how to avoid unnecessary confrontation.
---