NEWS
St Patrick's Day Parade, Loughrea - March 2013
The club took part in the St Patrick's Day parade in Loughrea. We dressed up in our Dobok's and marched down the main street.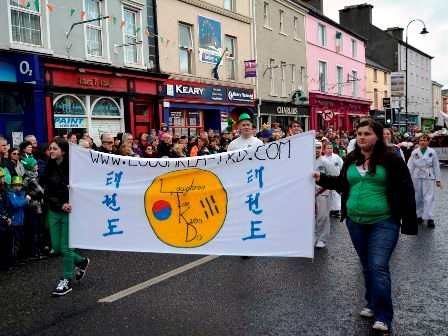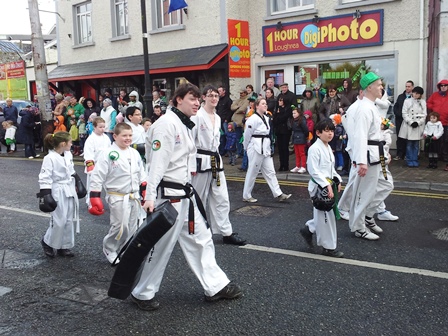 In front of the main stand we put on a short demonstration of our Taekwon-Do skills.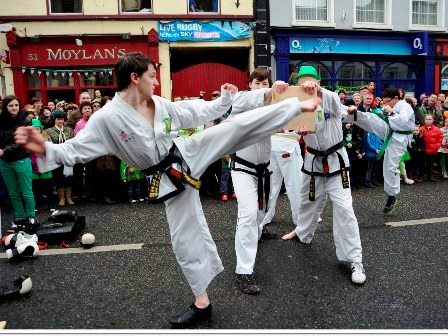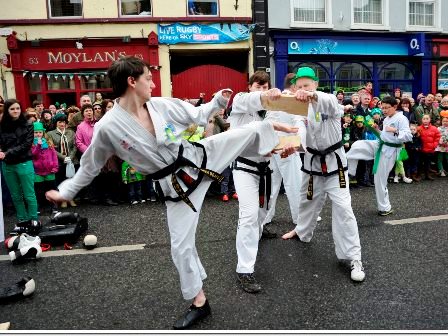 Eoghan impressed the crowd, breaking a 1 inch timber board with a reverse turning kick. Mr Doyle and Mr Grehan also broke with different techniques.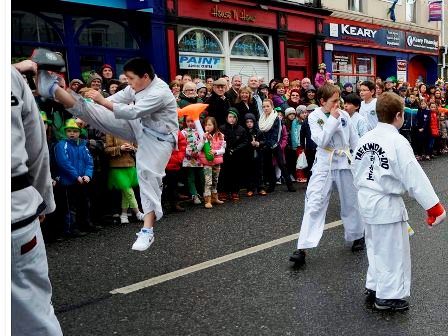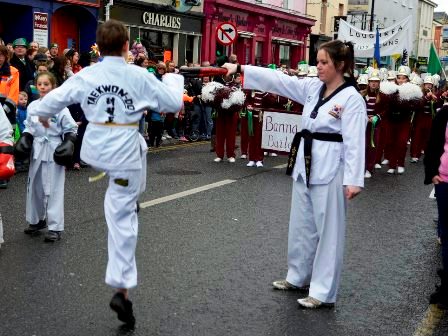 Cian and Anton (assisted by Ms Lynch) are shown demonstating the flying high kick.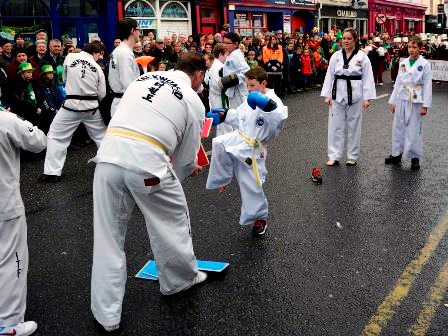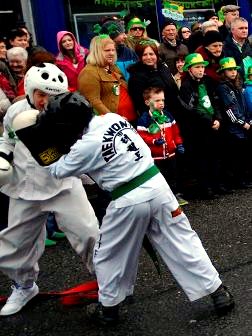 Oliver shows how to break a board with a front snap kick (assisted by Mr Bowes), while Cian and Sief demonstrate sparring.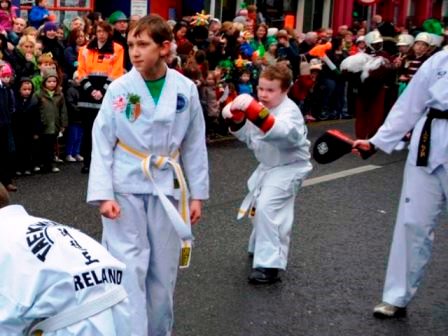 Mustafa, Tiarnan, Hannah and Morgan also showed their skills at kicking and sparring techniques.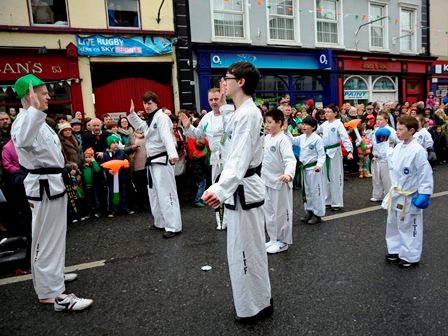 Well done to all who took part. Thank you for participating , we're proud of your performance representing your club. And thank you to others who assisted - Laura, Rebecca and Mr + Mrs Tairov and Mr Smith for taking some great photos.
---
Christmas Class - December 2012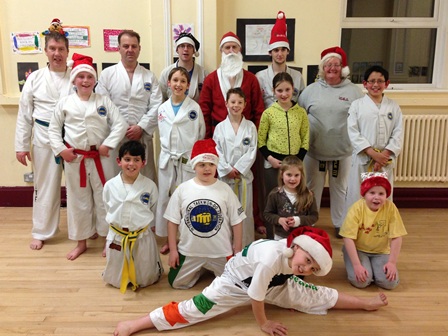 ---
Connaght Championships - October 2012
Congratulations to our students who won medals at the Connaught Championships ; Cian and Tiarnan Bowes, Oisin Dolan and Eoghan Doyle.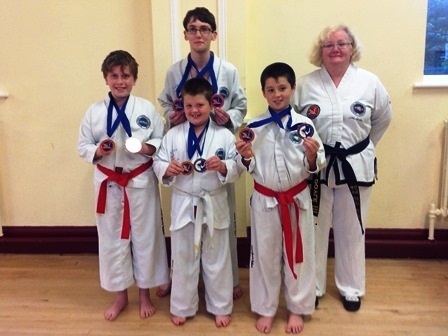 ---
Black Belt Grading 2012 - May 2012
Loughrea Taekwon-Do club was successfully represented by 3 students at this year's black belt grading. Mr. Paul Doyle and Eoghan Doyle were promoted to 2nd degree black belts and Mr. Corey Grehan achieved 1st Degree black belt status. Congratulations.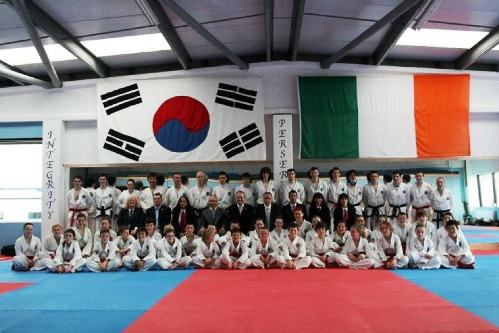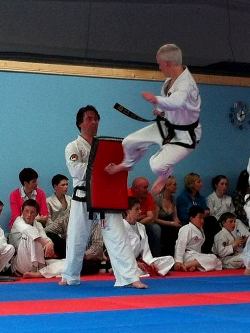 ---
Promotion to 6th Degree
Loughrea Taekwon-Do club sends congratulations to Mrs Dalton and Mr Moriarty who were both recently promoted to 6th Degree Black Belt
---
Tribal Cup - June 2012
Get ready for the Tribal Cup in Oranmore on 10 June. See the calendar for more details.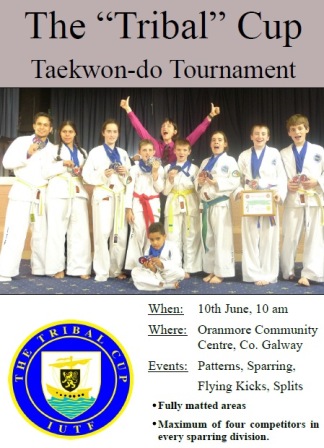 ---
International instructors course with Grand Master H.S. Hwang K.9-1 - Apr 2012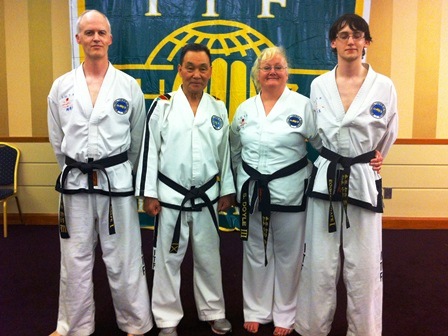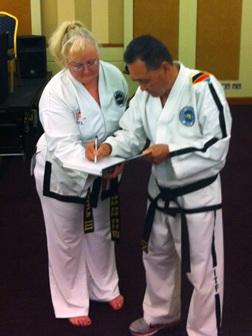 We gathered in the Oriel house hotel in beautiful Ballincolligh county Cork, for the first of three days intense training. Grand Master Hwang was our instructor and he was assisted by four of the finest instructors I have ever met and trained with - Master Sahota, Master Dalton, Master McCarthy and Master Brown. It was back to basics for some much needed revision on the foundation moves for the art. We often forget how easily we can develop bad habits when we neglect to practice the basics. I know at times I get so caught up in learning the new material I forget to practice the old basics, and how easily I can adapt unconsciously when I am nursing injury or simply not focused fully on what Iím doing, so for me it was great to just spend time remembering how things should be done and fixing any bad technique. We spent almost an hour just on sitting stance punching and it was important, the foundation movements must be right. If we are making mistakes in the basic moves how can we be correct in the more complex techniques? Grand Master Hwangís easy and friendly attitude soon put us all at ease and his delight in the incredible knowledge shown by the juniors and colourbelts was soon very clear. His constant praise for what we are doing and trying to achieve was reassuring and good to hear. His emphasis was on General Choiís encyclopedia, how our founder had developed this Art for everyone and we should train as General Choi intended and set out in his book. The first three hours were gone in a flash and my head was full of information which I needed to get down on paper as soon as I could. My first impression of Grand Master Hwang was that he was an enigmatic and intelligent man and I was going to enjoy the next few days very much indeed.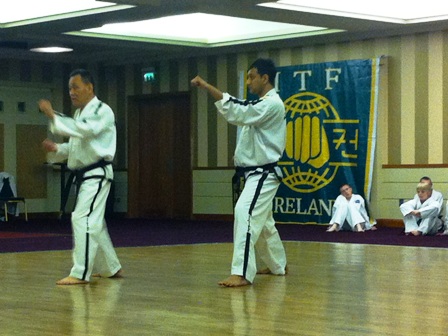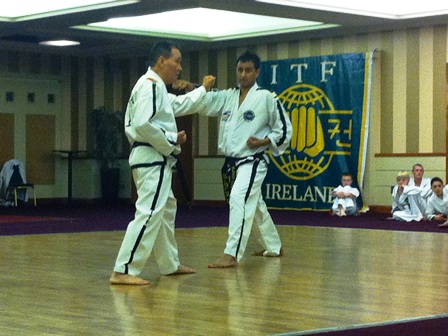 9am the next day we gathered again for the first of two sessions that day. Starting with the basics again- sitting stance punching and methodically working our way through Tul. The attention to detail was incredible little nuances which make the Tul great and not just good. It was intense and before I knew it- it was lunch time. We talked over the mornings training while we ate and made more notes to bring back to our clubs. Everyone was enjoying the training so the place was buzzing with happy excited students. It was back to work at 2pm and more of the same. Grand Master Hwang set out teams to practice team patterns and we were to have a competition the last day of training. They were to perform Choong-Moo as a team pattern and the four masters were to judge. Grand Master Hwang picked out the eight people best able to perform the Tul to assist each team in their practice. We finished up at 6pm so everyone could get ready for the banquet. I did not attend the banquet so sadly I missed out on seeing some of the other talents my colleagues have, I believe Master Mc McCarthy sang, and Mr Fitzgibbon also, and Mr. Mc Sweeney played the Banjo. I hear a fantastic time was had by all.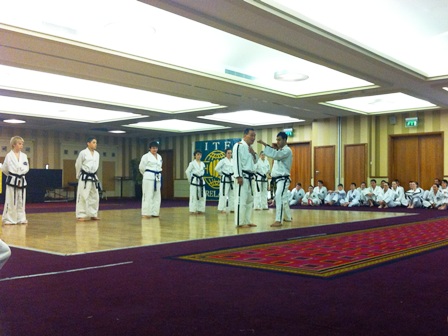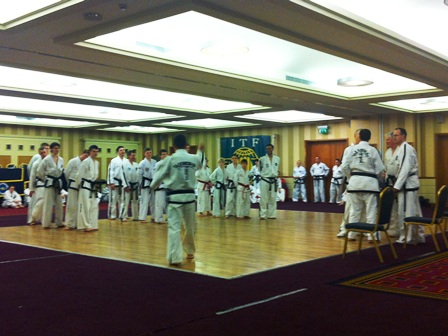 The final day dawned bright and early and once again we gathered in the big hall. Mr. Fitzgibbon did a good warm up with everyone so we were ready to go when Grand Master Hwang arrived. We continued working our way through the Tul and covered all the way up to Gae-bek, Po-eun, and Gwang-gae. The teams performed for us doing each Tul in turn with Grand Master Hwang asking for comments and questions. We broke for lunch again and gathered to eat and talk over the morningís session. The last session was from 2pm and sadly some people had to leave to catch flights home so with dwindling numbers we watched the teams perform Choong-Moo. Eight teams in all and very mixed grades in all teams. I did not envy the four Masters the job of picking the top three teams for a final. Then each team had to select the top five to compete for the prize. In the end there was a clear winner and their unity and synchronicity was superb, both jumps performed beautifully and all together. Impressive performances from everyone but credit where it is due. For me I have to say the juniors with Mr. Sahota were amazing- coming second and beating some very experienced competitors and grades. Their knowledge and skill leaves me in no doubt about the future of Taekwon-Do, whether performing Tul or answering questions they were confident and knowledgeable. I was really proud of all my friends who did so well and especially proud of Eoghan Doyle who was on the third placed team.
We took photos had our encyclopedia signed and said our good byes. I feel renewed and enthusiastic looking forward to teaching at my club tonight. I feel I have trained with one of the finest instructors in the world, and some of the finest Masters in the world and I feel truly privileged. Grand Master Hwang has shown me there is only one Taekwon-Do and thatís General Choiís Taekwon-Do. His love for the Art is in no doubt. His loyalty and respect for the founder clear as crystal, an enigmatic and intelligent man. The respect he showed to everyone irrespective of belt was an inspiration, this is how we should be. He spoke to everyone with the same respect and courtesy. He is living the Do. Itís not easy but we will try and live the Do as well as performing the Taekwon, it is after all TAEKWON-DO.
Mrs Sandra Doyle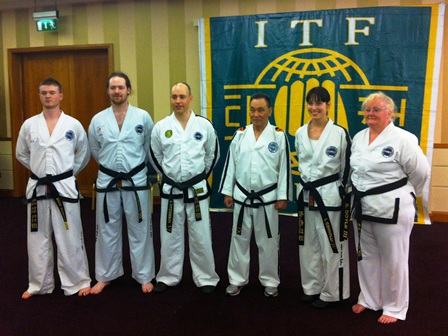 ---
Munster Championships - Feb 2012
Congratulations to the students who travelled to Tralee to compete in the Munster Championships. Cian and Tiernan Bowes both won medals. Well done especially to Tiernan who won bronze in the patterns and silver in sparring in his first tournament.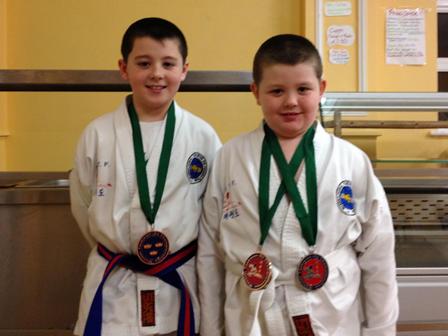 ---
Halloween, Oct 2011
Once again we had a special class for Halloween when everyone dressed in costumes and we collected €60 for a local charity, Galway Simon Community. The theme was zombies and the photos below show the fun we had. Congratulations to Tiernan Bowes who won a prize for the best costume.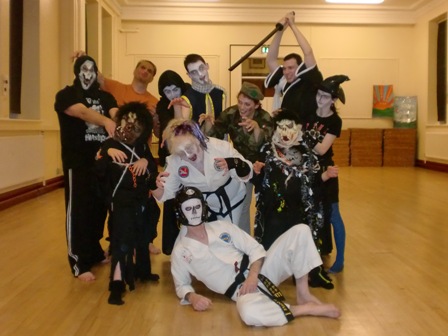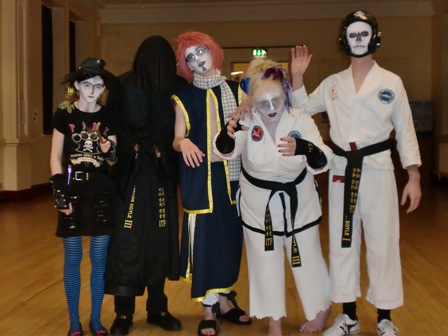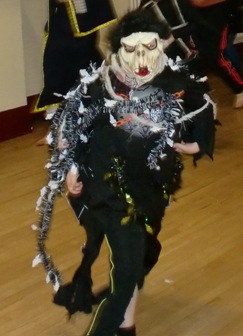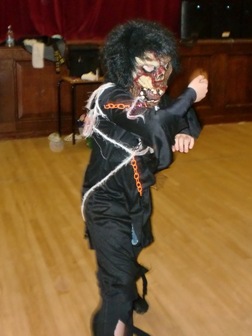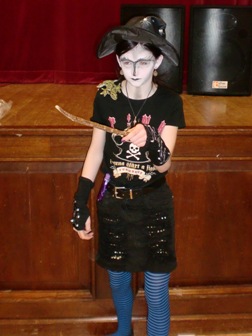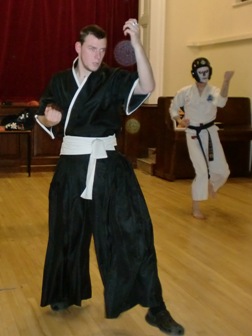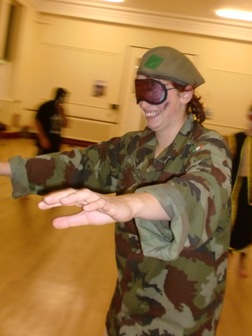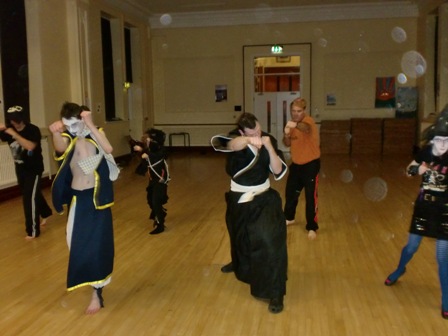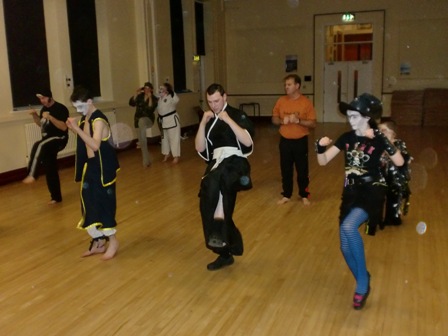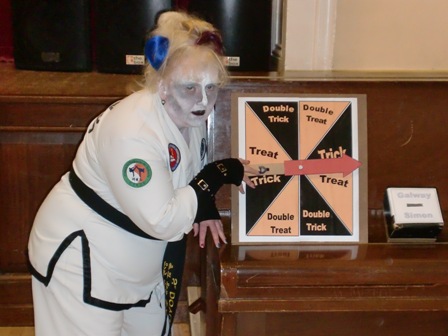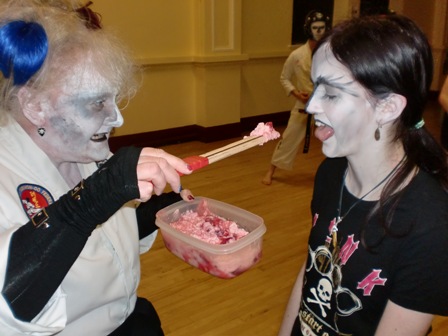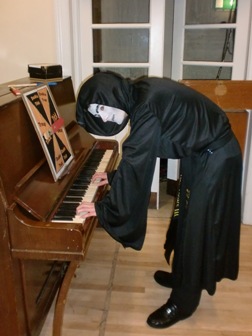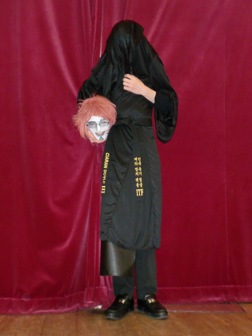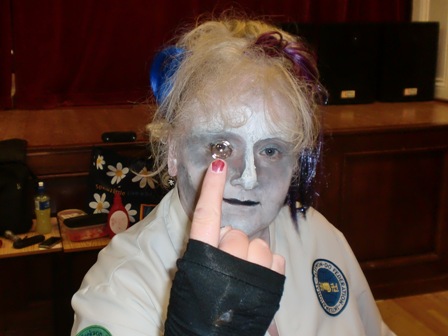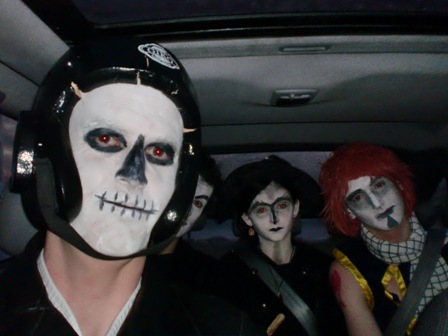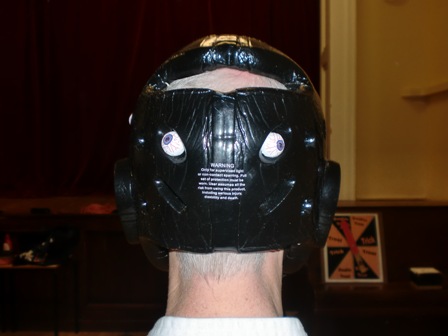 ---
Cian Bowes - WKA world championships, August 2011
Well done to Cian Bowes who took part in the WKA World Championships in Germany. Although he didn't win a medal, he performed well in his first international tournament and I know he was proud to represent his club and his country.
---
EasterCamp - April 2011
This year we ran a short three day Easter camp. It was a very successful event despite low numbers attending. Each day started with soccer and the group was split in two and asked to pick a name for their team. Cian Bowes captained one side and they called themselves TKD United. The first match ended with a score of 4-3 in their favour. The second day it was the turn of Konrad Machís team The Yellow Peril (most of them were yellow belt or yellow tags - hence the name) to win with the score 5-4. On the last day after full time it was a draw. So everyone got a small prize. There were daily team competitions and the students were divided into three teams - Laura Doyle captained the red team, Cian Bowes captained the blue team and Siobhan Brady captained the yellow team. After three days of competition the blue team took victory with yellow in second and red a very close third. Top individual male was Konrad Mach and female was Lucja Drozdzal. We had a scavenger hunt on the last day which was enjoyed by all but revealed poor observation skills and no interest in rugby - as one of the clues was a rugby jersey signed by Jerry Flannery which they all walk past every time they come training but clearly never look at!! I am guessing they will be a little more observant next time. The fastest team back was Cyprian Drozdzal and Siobhan Brady. We ended each day with dodge ball which is by far and away the most popular activity. It seems hitting each other with a ball is as much fun as sparring - who would have thought!!
---
Leinster Championships - April 2011
Congratulations to the Loughrea students who travelled to Athlone for the Leinster Open Championships. Oisin Dolan and Eoghan Doyle returned with 2 medals each. Cian Bowes, Laura Doyle and Mr Dolan also competed well but without success. A special team patterns competition was added at this tournament which was of a high standard and very enjoyable to watch.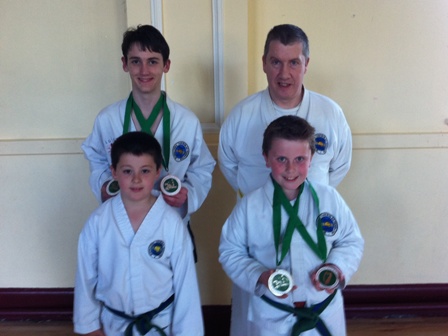 ---
St Patrick's Day Parade - March 2011
Loughrea Taekwondo Club marched in the St Patrick's Day parade for the fourth year in a row, showing our committment to the local community and showing off our skills to the public. The photos below show it was an enjoyable, colourful event. Thank you to all 27 students and instructors who took part this year.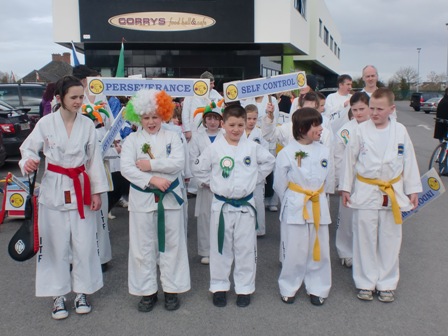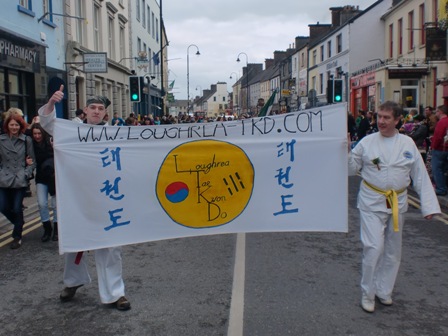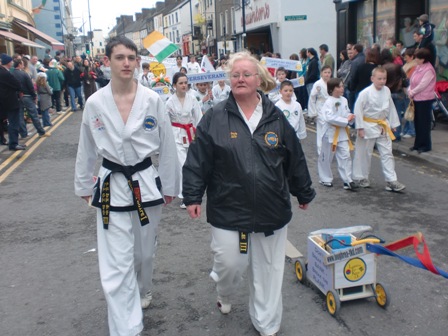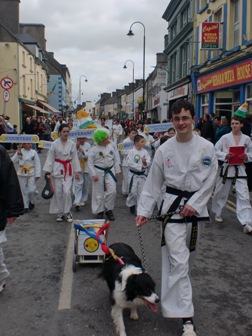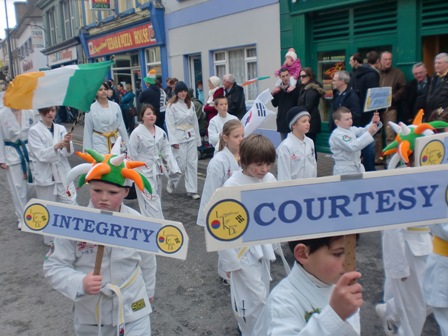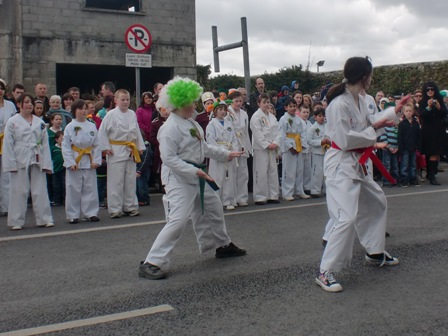 ---
Connacht Championships - March 2011
Congratulations to the Loughrea students who competed in the Connacht Open Championships in Gort. We had 10 students competing and between them they brought back 10 medals. Well done especially to Lucja Drozdzai (Silver and Bronze), Eoin Monaghan (Silver and Bronze), Cuba Skrzypczynski (Silver) and Cyprian Drozdzai (Bronze) who were all taking part in their first tournament.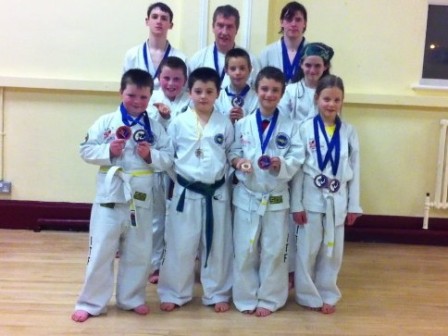 ---
Munster Championships - February 2011
Congratulations to the Loughrea students who travelled to Tralee to compete in the Munster Open Championships. Cian Bowes and Eoghan Doyle both won silver in sparring and bronze in patterns in their sections. Laura Doyle won a bronze medal in sparring. Well done !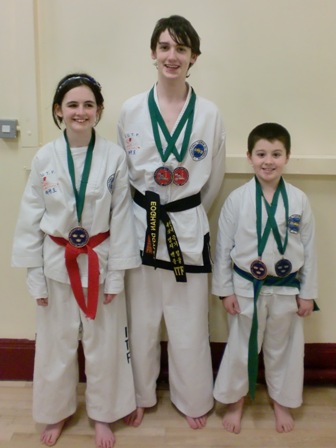 ---
Halloween Class - October 2010
For Halloween we held a class where all the students came in fancy dress and donated a few euro to charity. We raised Ä85.00 for the Irish Cancer Society. See the photos below.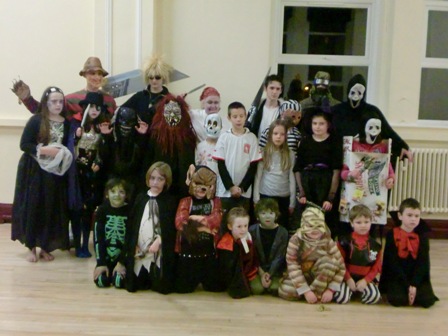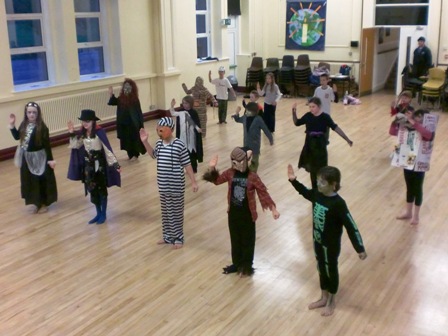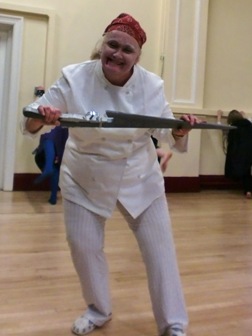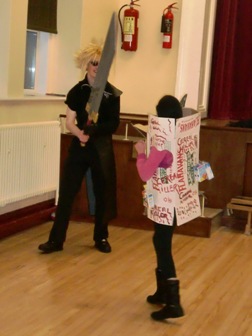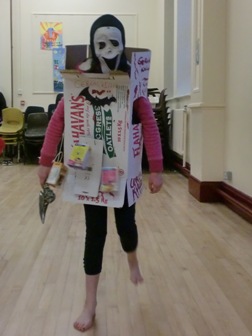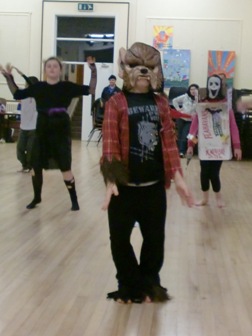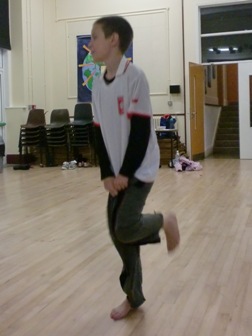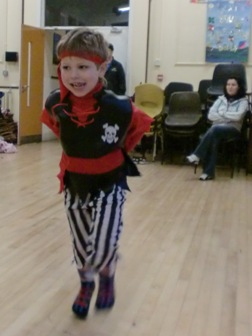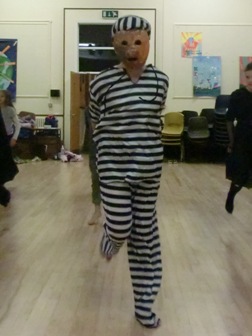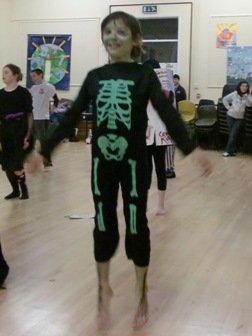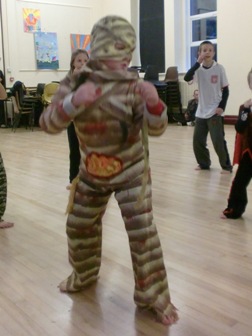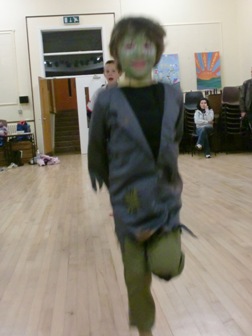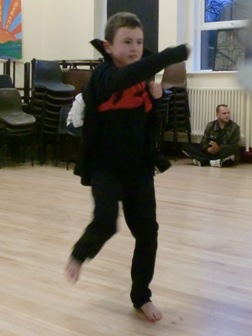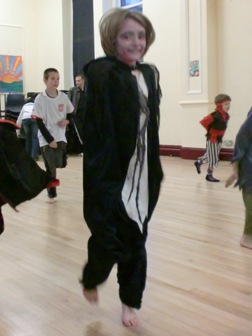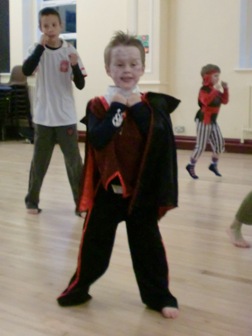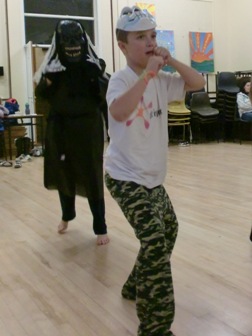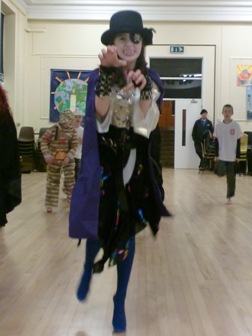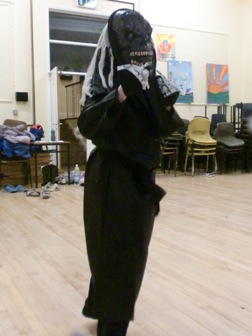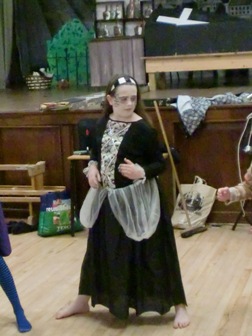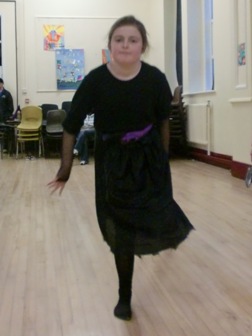 ---
Master Maidana Seminar - October 2010
It was great to be able to train once again with Master Maidana from Argentina. He is always a big favourite with Irish students and always brings fresh and new ideas with him. This year was no exception, as he promoted the idea of categorising sparring techniques into three groups : 1-counter, 2-simultaneous, 3-anticipation. I for one had never considered this way of thinking about sparring and it was great to be shown another way to teach sparring. It made me realise that you spar with your mind as much as your body. Not everyone is an instinctive fighter, some of us have to learn how to fight and this was another way of putting it together. We did quite a lot of line work thinking about whether particular techniques are more suited to attack of defence or indeed useful for both. It was a very different and enlightening seminar which has expanded my way of thinking about sparring and can only be good for my students. I am always pleased to learn new things and there is no better way than attending seminars like this. They are always worthwhile, not just for instructors but for students of all grades too. It is not always possible to remember everything you cover in a three hour session so the more people who go, the better the chance of retaining more of the knowledge. Always try and keep the desire to learn, and the best way to learn is to train with as many different senior grades as possible. Masters like Master Maidana have so much to offer us if we are only willing to learn.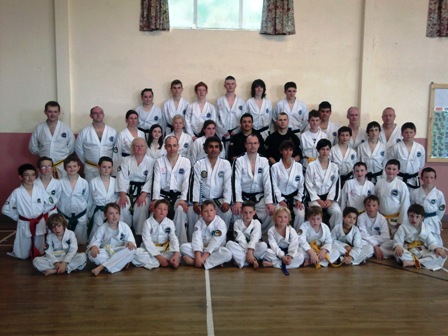 ---
Box Splits - September 2010
We've recently introduced certificates for those students who can perform a full box splits. We've been encouraging our young students to stretch every day with this goal in mind. After much hard work and perserverance we're pleased to congratulate Cian Bowes and Saif Hussein shown below with their certificates. We expect to be presenting more certificates soon. Keep up the stretching.
Congratulations also to Ciaran Flynn who received his certificate for performing the full box splits.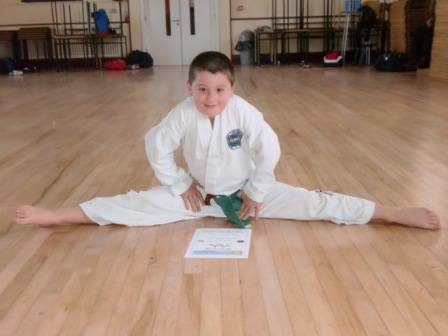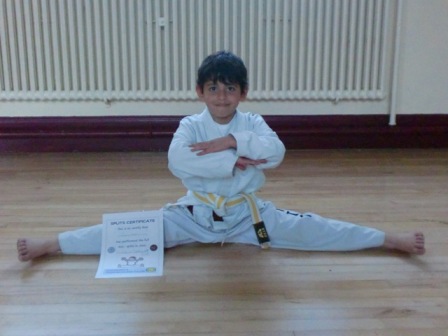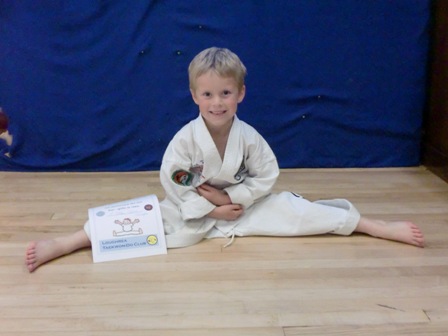 ---
Leinster Open Championships - March 2010
Congratulations to the Loughrea Taekwon-Do students who competed in the Leinster Open Championships in Athlone. We sent a group of 9 competitors and they returned with a total of 13 medals for the club, and also enjoyed themselves. A special mention goes to the following 4 young students competing for the first time and each won 2 medals - Jessica Griffin (Gold and silver), Dylan Crean (2 silver), Evan Crean (2 bronze) and JP Griffin (2 bronze). David O'Connor won a silver medal in sparring and Cian Bowes won bronze in the patterns. Our 3 adults each won a medal- Miss Cochonneau and Mr O' Connor came second in their sparring divisions and Mr Leahy (also competing in his first tounament) won a bronze medal. Well done to everyone.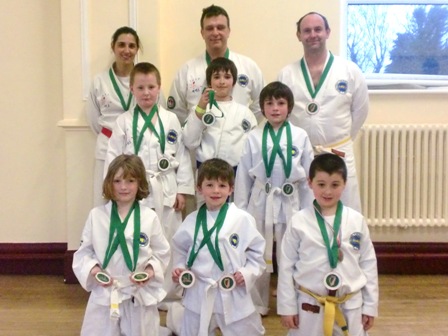 See our "Competitor of the Year points table" in the Calendar Section for a record of the medals won in the recent events.
---
St Patrick's Day Parade, Loughrea, March 2010
Loughrea Taekwon-Do Club participated in the local St. Patrick's Day parade which is now an annual event for the club. This year's theme for the parade was "Our Nature" so we highlighted "Our Taekwon-Do Nature" which is summarised by the 5 tenants of Taekwon-Do - Courtesy, Integrity, Perseverance, Self Control and Indomitable Spirit.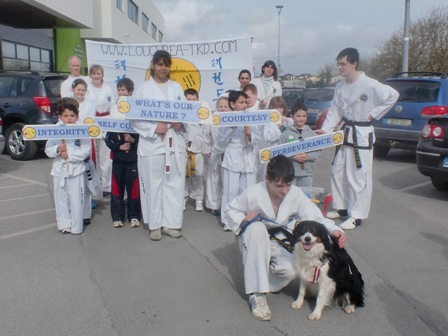 We marched along Loughrea Main Street - Mrs Doyle leading the way (with Luna the "Taekwon-Do Dog") and everyone looking smart in their bright white doboks, holding their signs or waving our flags. Well done to our placard holders Haya, Mustafa, Saif, Dylan, James and Darragh and flag wavers Evan and Jessica.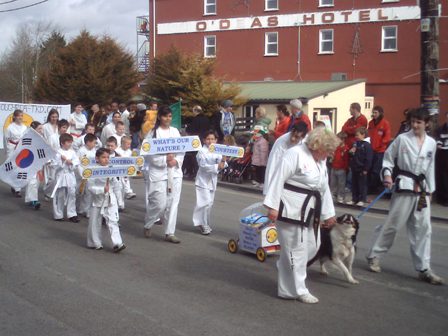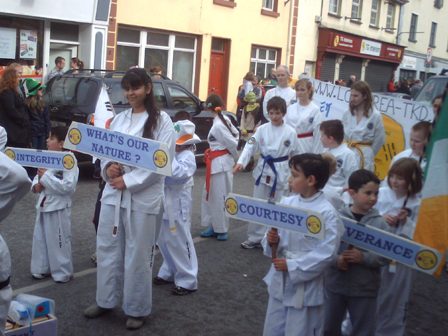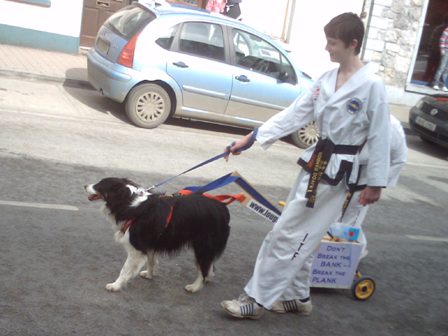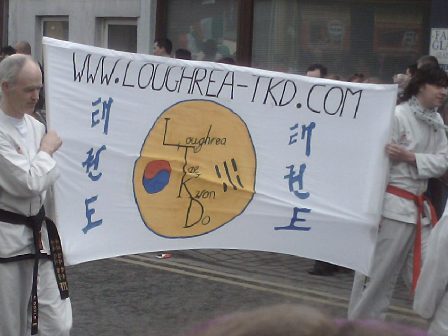 After the parade we put on a demonstration for the crowd. This year we had 2 groups demonstrating team patterns. Cian, Saif, David, Oisin, JP and Jessica performed Sagu-Jirugi. And Kayla, Laura, David and Cian performed Dan-Gun. To finish we demonstrated the art of breaking using a variety of kicks and hand techniques. Kayla, Cian, David, Miss Cochonneau, Ciaran and Mrs Doyle all broke the timber boards with impressive techniques but top marks go to Corey for the "loudest break" as he smashed a 1 inch thick timber board with a forefist punch.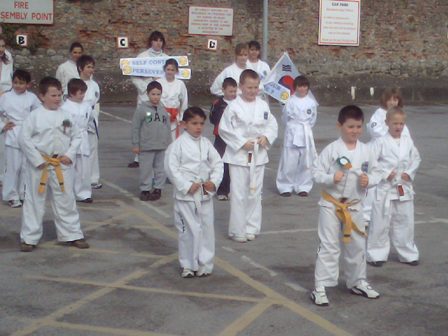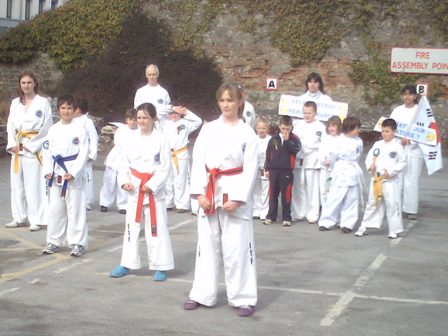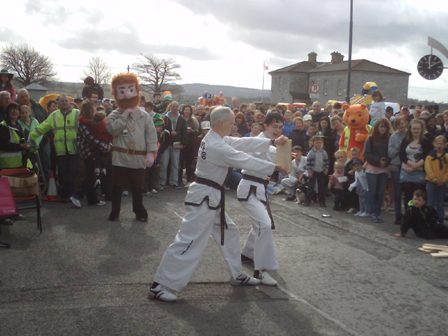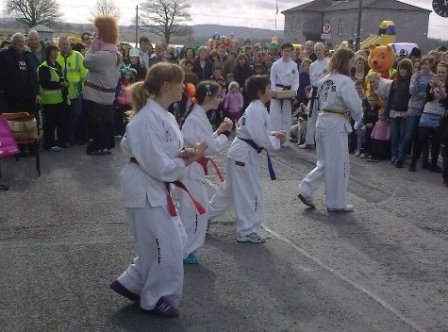 Thank you to all the students who took part, especially the new students. We hope you enjoyed it as much as the crowd did.
---
Irish Open Championships - November 2009
Congratulations to the Loughrea Taekwon-Do students who competed in the Irish Open Championships in Cork. This is the biggest competion in Ireland and one of the biggest in Europe with competitors travelling from Britain, Holland, Spain, Germany, Czech Republic, Belgium, Italy to compete with the best Ireland has to offer. Saturday was for black belt competitors and there were over 220 competing to a very high standard. Our instructors Mrs Doyle and Ciaran Doyle both won third place in their sparring divisions; Mr Doyle also competed valiantly.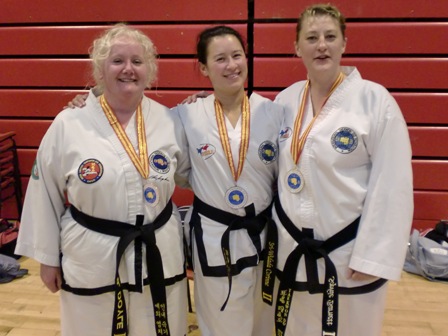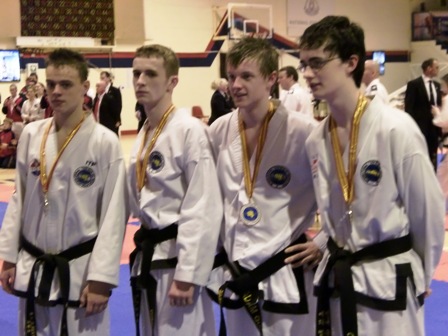 Sunday was the day for all the colour belts and as is now traditional starts with the final of the Celtic Cup - a team sparring competition for black belts. The Irish mens team narrowly beat the Czech team after a display of world class fighting from both sides to the delight of the crowd.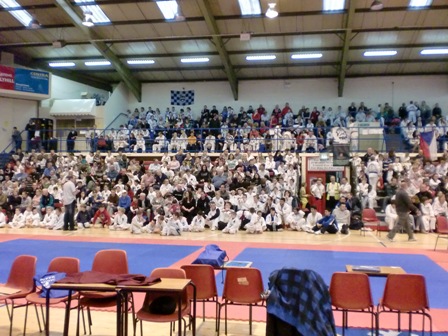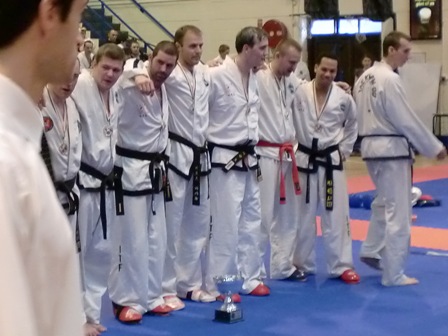 Well done to Oisin Dolan, Cian Bowes and Miss Cochonneau who all brought back medals. Hard luck to Laura Doyle who also competed valiantly.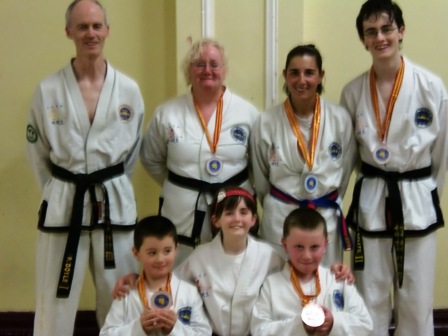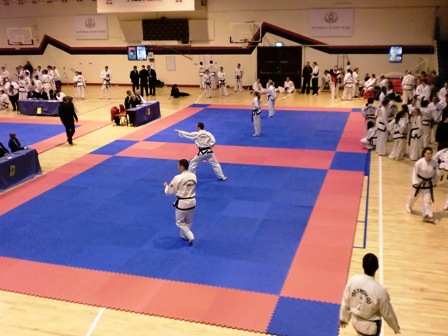 ---
Leinster Championships - October 2009
Congratulations to the Loughrea Taekwon-Do students who competed in the Leinster Championships in Athlone. Well done especially to Oisin Dolan and Cian Bowes who won their first sparring trophies. Oisin came third in his sparring division and Cian came second in his group. Laura Doyle also fought well to take second place in her sparring division. Miss Cochonneau performed well as usual taking first prize in the patterns and second in the sparring. The tournament was very well organised so it was a good day out for all.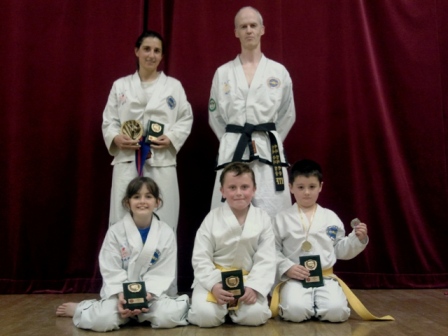 ---
Connacht Championships, Gort, May 2009 and WKA National Eliminations, Kanturk, June 2009
Congratulations to all the Loughrea students who competed in the Connacht Championships in Gort recently. Well done to Cian Qualter who took part in his first tournament and earned a gold and bronze medal. David and Kayla O'Connor both won gold in their sparring divisions. Other medal winners on the day for Loughrea were Miss Myriam Cochonneau, Mr Brendan O'Connor, Mr Paul Doyle and Mr Corey Grehan. Well done to Cian Bowes and Mr Michael Qualter who also competed for the first time and Laura Doyle and Mr Rory Newell who also took part. In total the club brought back 11 trophies from this years Connacht Championships.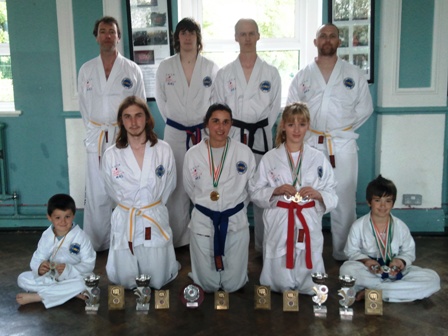 Also well done to the 4 Loughrea students who competed in the WKA trials and earned their places on the Irish team travelling to the World Kickboxing Association Championships in Spain later in the year. Miss Myriam Cochanneau and Mr Brendan O'Connor each won a gold and a silver medal, Kayla O'Connor won 2 silver medals and David O'Connor won 2 bronze medals. This is a just reward for these 4 dedicated students who have been competing regularly in all the main competitions and a great achievement for our small club to have 4 students on the Irish national team.
---
Archive