NEWS 2
Black Belt Grading, Athlone, April 2009
Congratulations to Mr. Paul Doyle who passed his Black Belt grading after a long and exhausting day in Athlone recently. This was a special day for our club as Mr Doyle is the first Loughrea Taekwondo student to graduate to Black Belt level under the instruction of Mrs Doyle. Hopefully there will be more to follow his example next year. Below is a report of his experience.
---
My Black Belt Grading : April 2009.
Sunday 26 April 2009 was the day I completed my grading for first degree black belt after just over 3 years of training in Taekwondo. The grading this year was held in Athlone, so luckily not too early a start for me to get there in time for the squad session at 10am. The advantage of the two hour squad session before the grading is that you certainly get warmed up and loosened out and it's a chance to get rid of initial nerves. The disadvantage is that it can tire you out a bit before the actual grading and like many others on the day I went into the grading with sore feet. But the Taekwondo student will recognise that this is itself part of the test of your character – the indomitable spirit expected of black belts. After working hard for 3 years to get this far, sore feet weren't going to stop me from trying to give my best performance on the day of my black belt grading.
There was a short break while the hall was set up for the grading - the main table at the top of the hall where Master Dalton, Mr Riordan, Mr Fitzgibbon, Mrs Dalton and Mr Moriarty were seated, a table to the side for the other instructors including my instructor Mrs Doyle, some cameras around for recording the event, the breaking horse at the side ready for later, plenty of space (it was an ideal hall for the grading) and at the back and around the sides some benches where parents, friends and us students could sit and watch. There was a little time to practice a few patterns before the start, everyone was getting a bit nervous, feet were sore....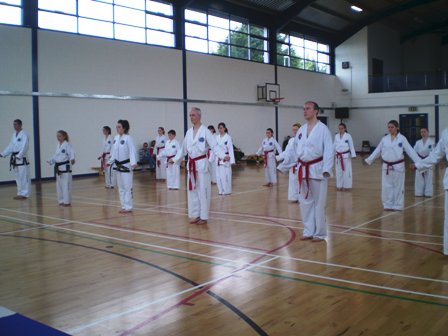 Then it was time.... the call "Fix up the lines please" and the immediate reply from 25 voices of "Yes Sir" signalled the official start of the Black Belt grading. There were 3 black belts and 22 black stripes lined up and, having seniority by virtue of age, I was first of the black stripes right in the middle of the front row. We bowed, said the tenets of Taekwondo, a few words from Master Dalton and then we were dismissed to the back of the hall. The first group (of 12 students) was called – after a few names it was clear this was going to be the group of more senior students and then my name was called "Mr Doyle" – "Yes Sir" – adrenaline –run onto the floor, take position, bow - breathe deeply - concentrate – this is it - time to perform.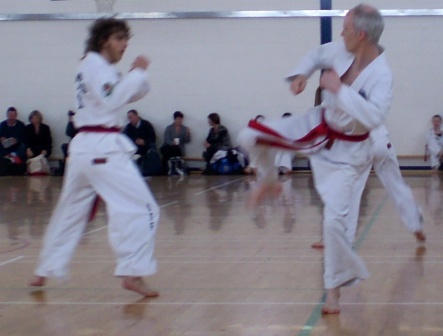 The first section was the patterns from Chon-Ji up to Choong-Moo. This is certainly one of the most important parts of the grading – demonstrating the very technical side of Taekwondo; trying to execute each movement of each pattern with precision, power and grace. You learn by the time you get to black belt level that you will probably never perform a pattern perfectly – there is always some new detail you learn, always room for improvement, more precision, more power. So as I performed the patterns there were good moments – yes I finished that pattern without forgetting a move, that 360 jump was good, yes I remember Master Galarraga correcting that movement at the seminar last year, I remembered to put more sinewave in that movement like my instructor showed me a few weeks ago: and bad moments – a slight hesitation there, that was a poor stance, that was a terrible sidekick, no sinewave in those last few movements – but above all – keep going, concentrate on the next movement. In the middle of this Master Dalton called me out front to demonstrate and explain sinewave motion – with a few corrections I was able to do this reasonably but Master Dalton was right when he said I knew what to do but wasn't executing it well enough in my patterns – definitely something to work on improving.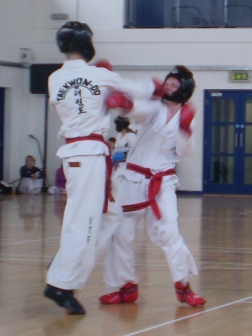 We were then tested on various other Taekwondo skills. Demonstrating certain counter attacks to sidekicks. Some non-contact sparring to demonstrate a variety of combinations and attacks. Pads on and a few bouts of sparring – this went OK for me. If I was tiring I could clearly hear in my mind Master Dalton's words from the squad session a few hours earlier "Don't walk - stay on your toes" – I knew he'd be watching for this so push yourself to keep moving. Pads off and some 1 step sparring with a partner demonstrating 1 block and 1 attack techniques. Then demonstrating some self- defence techniques. Master Dalton had stressed in a few previous squad sessions that in self defence the focus was shifting away from complicated techniques (such as hand manipulation) to more realistic and practical techniques that were more likely to work in practice. Luckily I remembered this so didn't try anything fancy – some other students were not so lucky and tried some hand grab techniques. To prove a point Master Dalton and some of the other instructors came onto the floor to act as partners for these students, grabbed them really securely and asked them to use the same technique to escape – they were unable to do so. We also had to demonstrate the special technique kicks – high kick and flying side kick I can perform OK; jumping turning kick, 360 jump back kick and 360 reverse hooking kick were not so good – I need to work more on my flexibility. We also did a session of Argentinean style sparring using the pads – showing both our ability to react and hit the pads with the correct technique and our ability to hold the pads correctly acting as trainer for our partner. Finally we demonstrated a few fundamental movements up and down the hall. After all that work, about 2 hours on the floor, our group was dismissed – this was the main section of the grading complete for us.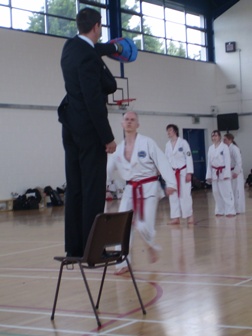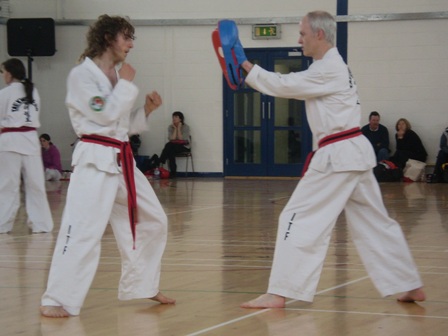 The second group of younger students was called to the floor and went through a similar ordeal for the next 2 hours. We had a chance to relax a bit but we weren't finished yet. Towards the end we were called back to the floor to act as referees for the younger students while they sparred - to demonstrate the various movements and commands required of the referee. This is another area where I could have done better – I need a lot more practice.
For the final stage all 25 students lined up again for the breaking and theory tests. The senior students were called one by one to the breaking horse – the device which firmly holds two one inch thick boards. I was first asked to break these with a forefist punch. Breaking is all about focus and confidence. I had never broken 2 boards before but I couldn't let any doubt or concern about hurting my hand enter my mind. I took a deep beath, focussed, a loud kihap and broke the 2 boards – that was a nice moment. Next I had to break the 2 boards with a side kick – I failed on the first attempt. Master Dalton explained that I wasn't using my weight behind the kick – I needed to start further from the board and slide in to get the full force to break. I tried and probably came closer on my second attempt but still failed to break – something else to improve on next time.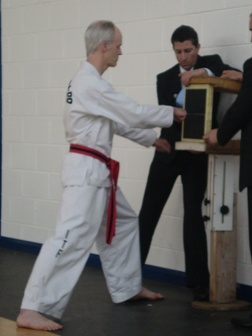 The students were called up to the table for questions on the theory of Taekwondo. My examiner for this section was Mrs Dalton. I was nervous but well prepared. At my age I cannot compete with the younger students in terms of flexibility and athleticism, my body has it's limits. But my mind is still sharp, and with 3 Taekwondo black belts in the family I've no excuse for not doing well in the theory. My biggest fear was that I would call Mrs Dalton "Sir" instead of "Miss". She had some challenging questions but I was able to answer well enough. The final question was to explain the elements of the Theory of Power which was a question my instructor had asked me earlier that morning so it was fresh in my mind. Then it was all over – the grading was finished.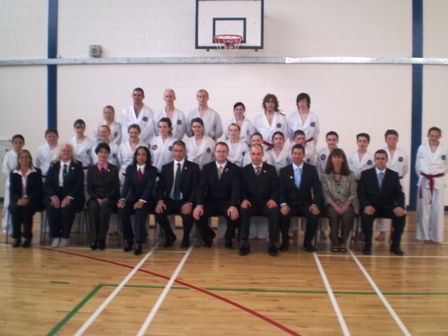 We had a short talk from Master Dalton and everyone was given a brief summary of how they had performed and what they needed to work on. Yes there were some areas I didn't do very well on, some important things to work on but I had given my best on the day and the end result was that I had passed – I was a first degree black belt. What a nice feeling. It was a long and tough day (after 5:30pm when we eventually left) but to me it was overall an enjoyable day. It was a challenge but I enjoy challenges. Taking up Taekwondo at the age of 41 was a challenge – at the time I didn't really believe I could be a black belt. But as I've said to a few people since then – if I can do it you can too. Now my next challenge is to perform much better at my next black belt grading for second dan – I think that means more hard work !
By Mr. Paul Doyle, 1st Dan
(Special thanks to my instructor Mrs. Sandra Doyle without whom this wouldn't have been possible)
---
St Patrick's Day Parade, Loughrea, March 2009
Once again Loughrea Taekwon-Do Club participated in the local St. Patrick's Day parade The theme of the Loughrea parade this year was "Stars" so we had prepared the following placard to lead our group :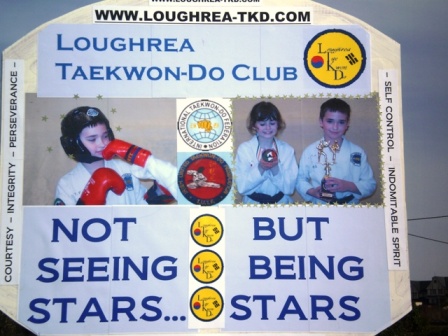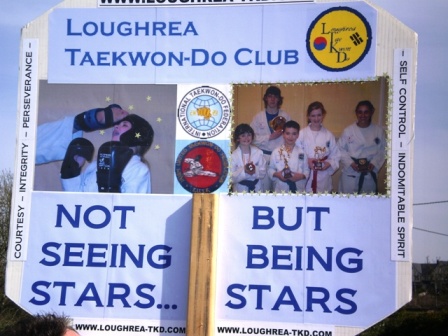 Strangely, the weather was beautiful for 17 March, the sun was shining and it was even quite warm, so we had no problem showing off our traditional Taekwon-Do doboks, embellished with a touch of green for St Patrick.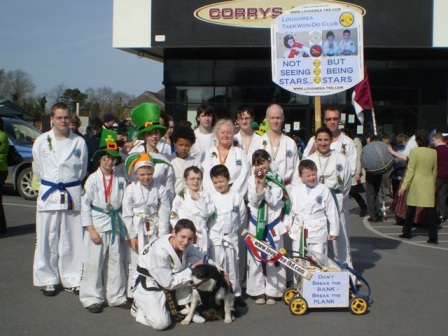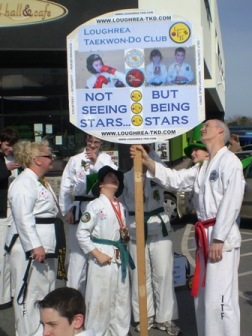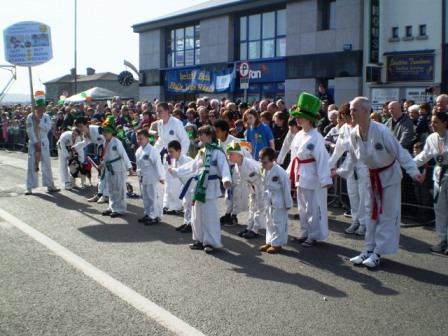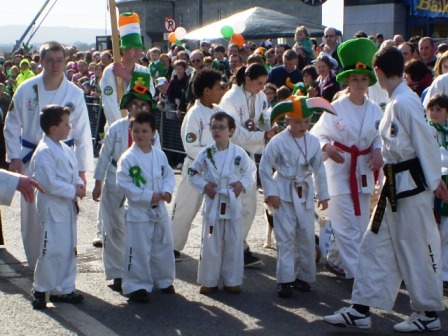 We marched up the main street of Loughrea, Mr Qualter leading the way with our placard, Luna our "Taekwon-Do Dog" gallantly pulling our "plank cart" helped by Ciaran and Eoghan, and Mrs Doyle directing a formation of dedicated Loughrea Taekwon-Do Club students : Laura, Oisin, Cian, David, Issac, Andy, Niall, Kayla, Jason, Cian, Corey, Miss Cochonnau, Mr Doyle and Mrs O'Connor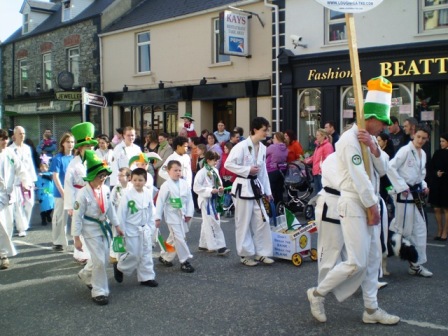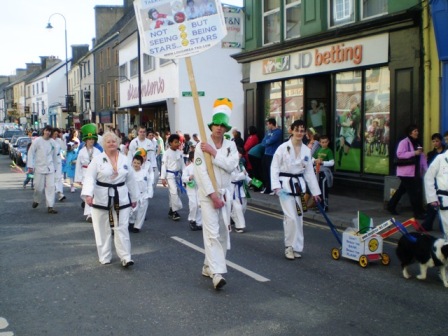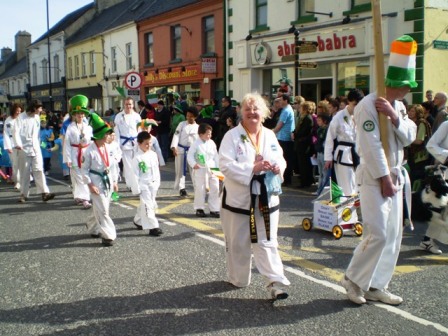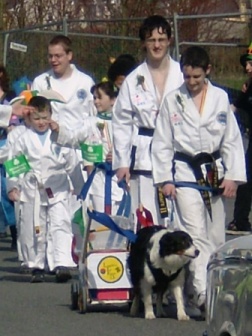 At the end of the parade we lined up in front of the stage and a large crowd and gave a demonstration of our Taekwon-Do skills. Kayla and Mr Doyle performed the pattern Hwa Rang, Ciaran and Eoghan performed the pattern Gae Bek ....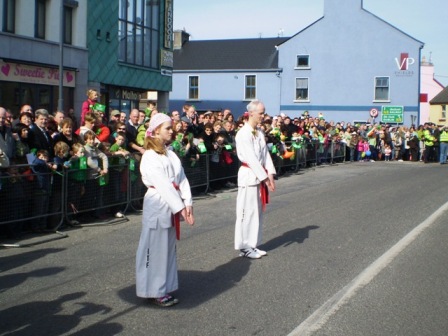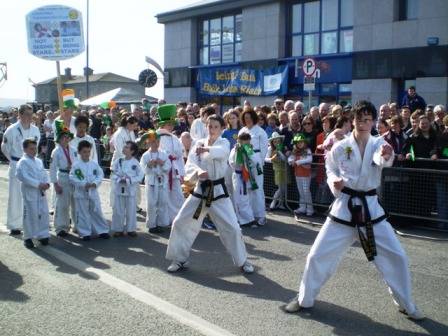 ... and between these we astounded the Loughrea locals with our demonstration of breaking planks of wood with various kicks and punches ...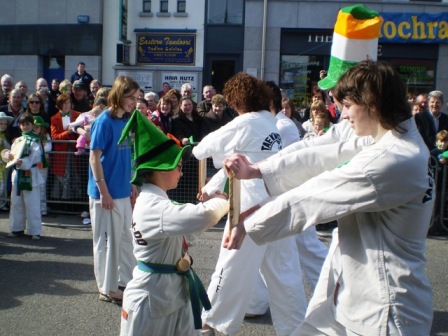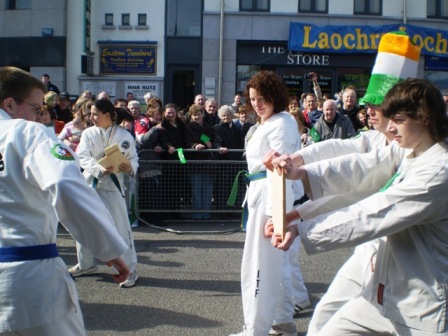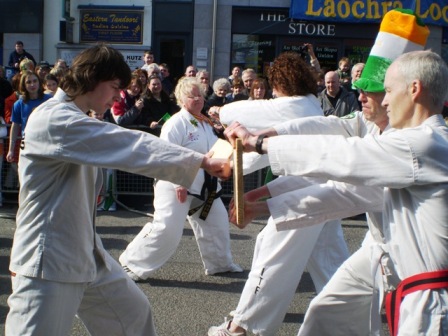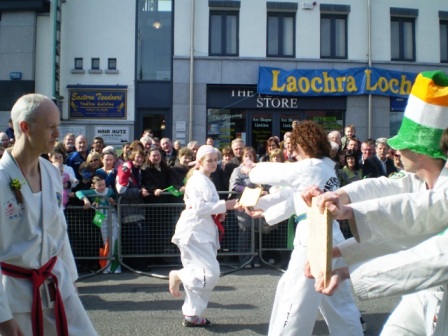 ... resulting in the following pile of firewood.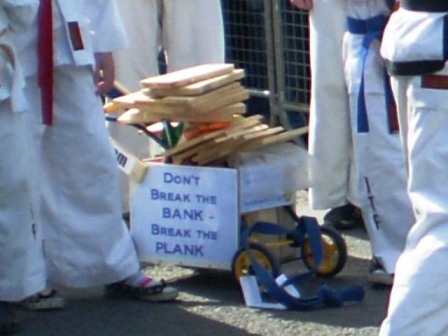 It turned out to be an extremely enjoyable event. A big thank you to all those dedicated Loughrea Taekwon-Do Club students who sacrificed their time to take part (including Mr O'Connor our official photographer). We hope you all enjoyed it and look forward to next year.
---
Munster Open Championships, Tralee, March 2009
It was a fine clear morning as we arrived at the hall for the first of the big four home tournaments. Competitors came from all over the country to take part as well as many of the local clubs ensuring a big turnout. There were some fantastic skills on display, with some beautiful Tul by the black belts starting us off and before long they were showing us their sparring skills as well. Loughrea had seven competitors there and the junior assistant instructor, Ciaran Doyle was competing for his club Galway under chief instructor Mr Shane Fitzgibbon. He acquitted himself well and took silver in the male 13-17 years black belt lightweight sparring.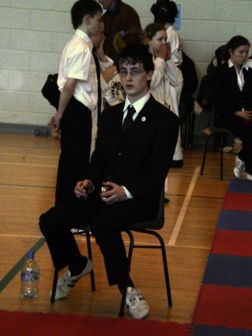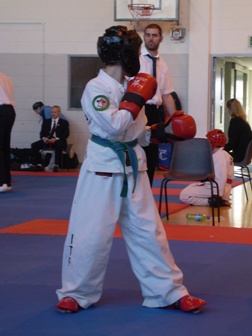 David O'Connor fought very well to take first place in the under 10 sparring , his sister Kayla won a bronze in the girls green to black tag division and Mr Brendan O'Connor won a bronze in the men's sparring. Miss Myriam Cochonneau won a bronze in the ladies patterns and Mr Paul Doyle also took a sparring bronze home with him. Congratulations to Mr Rory Newell who has done very well for a first time out. It is a nerve wracking experience the first time you have to get into a ring and compete, but with the first one under your belt you can now look forward to the next one. Also competing on the day for Loughrea was Laura Doyle who did very well but finished out of the trophies.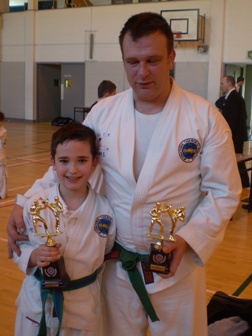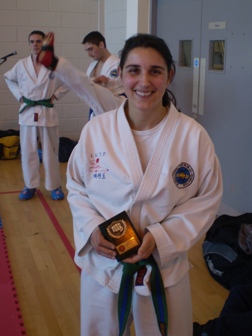 Master Dalton presented the Golden four certificates to those students whose skill and determination allowed them to win gold in all four of the major tournaments in 2008. This is quite an achievement, as it requires constant training and consistency of performance and they should be very proud of themselves. Senior ladies competitor of the year '08 was presented to Miss Claire O' Sullivan and Senior Men's Competitor of the year '08 was presented to Mr Leon Brydon. Congratulations to all of you from Loughrea, you are an example to us all.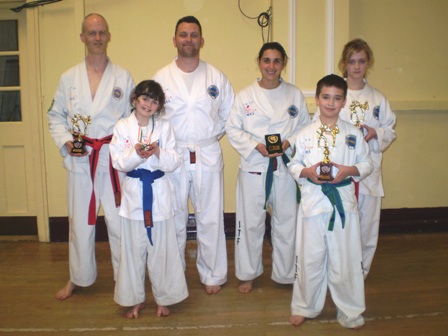 While winning is confirmation that you are doing something right, it is important to remember there is a lot of pleasure to be had in simply taking part in these tournaments. There is an opportunity to meet and make friends with likeminded people from all over the country and indeed at the Nationals from all over the world. There is also a chance to learn from watching others perform and to experience different levels and abilities. I myself have learned more from losing than I ever did from winning. It is also an opportunity to learn about who you are as a person. The Big Four provide the kind of experiences you can't get in a class and I would urge everyone to take part in at least one of these tournaments if not all four.
---
MASTER GALARRAGA Seminar, Galway, October 2008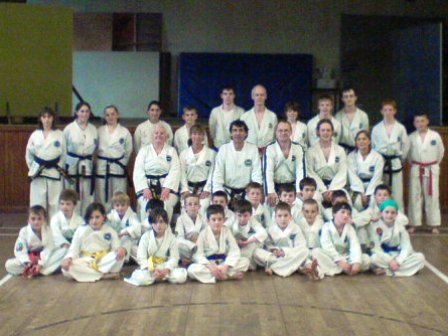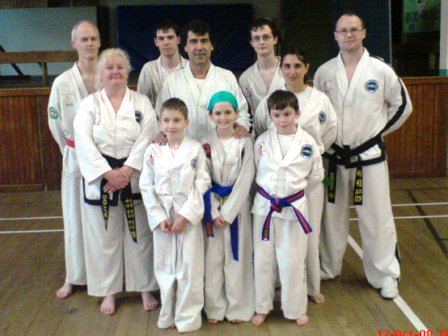 Having spent the morning teaching in Dublin and then the drive to Galway both Master Galarraga and Master Dalton arrived looking fresh and keen for action. Master Dalton introduced us all to Master Galarraga from Argentina, Chairman of the tournament committee for the ITF, head of the Argentinean TaeKwon-Do federation, and one of the finest team coaches in the world. Despite the fact he told us he spoke little English, only Spanish, Master Galarraga made himself easily understood through the universal language of TaeKwon- Do. His English turned out to be very good.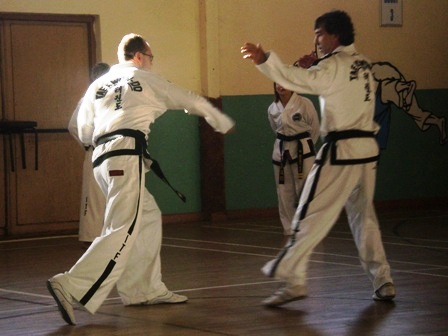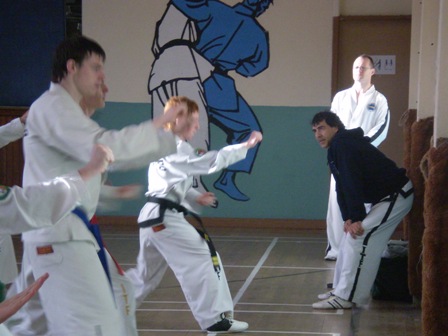 We started with a fantastic warm up full of different and fun exercises, we even played a Japanese game. The first half of the seminar was all about sparring. Working on our footwork first, we practiced techniques that will increase explosive speed, then in pairs we worked further on technique. Then two of the juniors were asked to pad up and spar. Master Galarraga explained how if we are concentrating on blocking we are not thinking about attacking or counter attacking. He also told us we needed much more variety in our attacks and not to rely too much on just punching or just side kick. If we are too predictable then our opponent will learn to counter and defeat us. How we can use a feint to test the opponent and depending on their reaction we can use it to our advantage. We worked in pairs first no contact sparring. And we finished with a drill were we lined up and one at a time attacked one person who had to defend and counter fast. We took turns at this and it was quite a good workout both physically and mentally.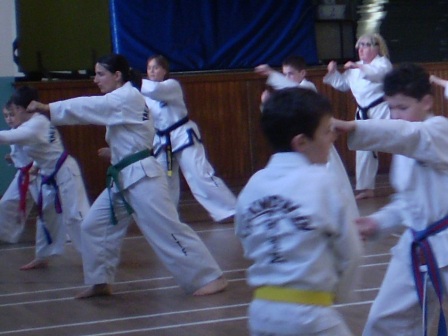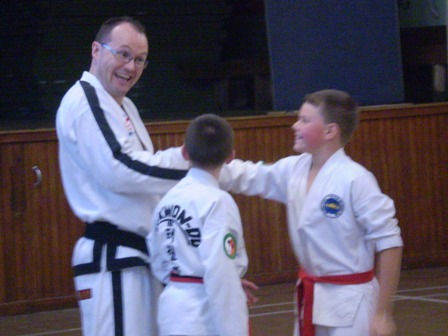 In the second half Master Galarraga moved on to patterns. We started with Saju Jirugi which we performed many times refining and honing basic techniques. Master Galarraga stressed the four main principals- (1) relaxation of all the muscles. (2) acceleration of the technique (3) use of potential energy. (4) focus of the technique. Both Master Galarraga and Master Dalton worked in unison making corrections and helping everyone improve. We worked through Chon Ji and Mr McEvilly performed a very good Dan Gun, which became an excellent Dan Gun with help from the Masters. We finished up with Do San, and then he answered questions on the patterns. Finally we did some self defence training, which was new and different and a lot of fun.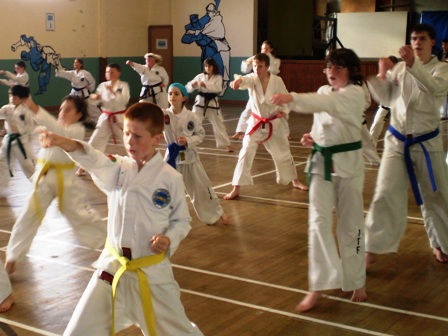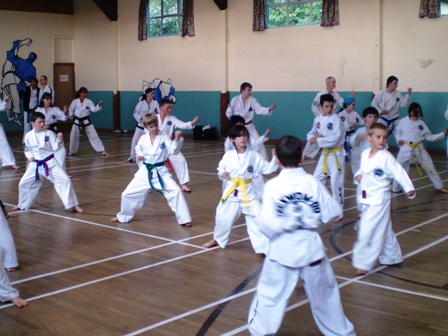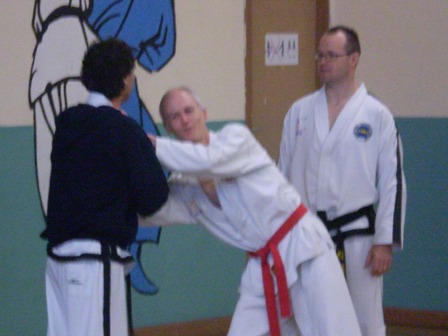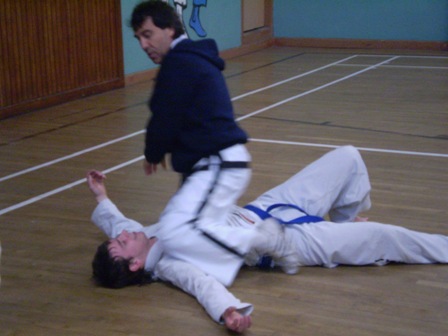 Master Dalton thanked Master Galarraga and told us he only teaches adult Black belts in Argentina and never children. He seemed to really enjoy teaching the juniors in Galway. It was certainly three on the best hours I have ever spent for so little cost. We are so lucky to have so many fantastic Masters coming over to Ireland to teach us. Each one brings a new and exciting approach and the opportunity to improve even more. I hope to get the chance to train again with Master Galarraga, who was friendly and gentle and seemed happy to help, and very quick to praise those who took on board his teaching and tried to improve. A Sunday afternoon well spent in the pursuit of the ever elusive perfection.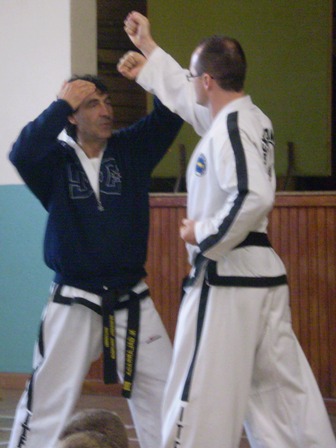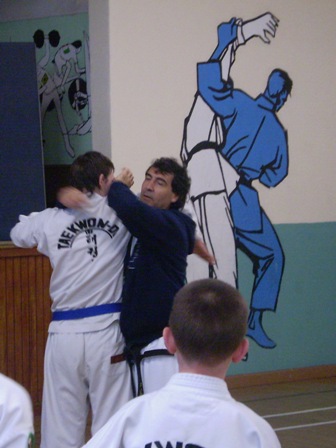 ---
LEE MORRISON - Defence against a knife Seminar, Dublin, September 2008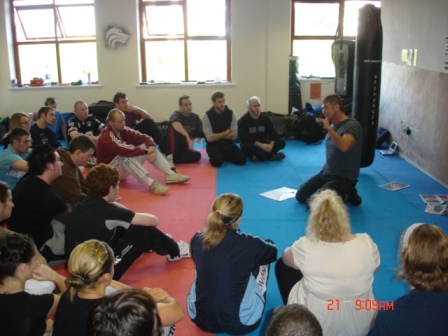 This was my first time to do a seminar with Lee; I had heard a lot about him and wanted to see for myself. First impression was that he was efficient, he wanted to get straight into things and not waste time, he also struck me as down to earth, a no-nonsense guy. He started by talking about what to expect if we found ourselves on the wrong side of a knife wielder. How our own bodies would behave and how this would decrease the chance of a happy outcome. It all made perfect sense- he was clearly a clued-up intelligent man. His use of humour relaxed everyone and generated a nice atmosphere. Make no mistake though this was adult only content and very realistic: muggers and rapists are not nice people- they don't say please and thank you. He made it all very real. He showed us the various knife techniques used by experienced knife users, if you know how they are likely to attack you- you have a better chance of defending yourself. We looked at pictures of weapons some bought and some made from everyday household things, the kind of stuff you would find in any ordinary house or garden shed. Then we looked at pictures of victims, some with horrific wounds inflicted on them, and Lee explained how we could be survivors if we could train ourselves to respond the right way and control our fear. We worked on some drills and broke for a lovely lunch prepared by Mrs Donna Mackey. I took this opportunity to buy a DVD and a book on self defence. After lunch we took a group photo and got back into training, practicing single techniques slowly at first, then adding in more, finally, simulating random attacks and building speed. We finished with how to escape when pinned to a wall with a knife at your throat; we had to stand with our eyes closed and wait an unspecified length of time. This messes with your head as you know it's going to happen but you don't know when, and you can feel them nearby but you don't know when it's coming. This goes a small way towards feeling the kind of fear a real situation generates. Now I have no personal experience of a really dangerous situation but I am sure I am not alone in wondering how I would react if I were to find myself facing someone intent on hurting or even killing me, but having done this seminar I am a little more confident of surviving. Mr Lee Morrison is intelligent and articulate with life experience to back him up. I will definitely be going back for more of the same.
---
International Instructors Course with MASTER CHOI JUNG HWA, Cork, March 2008
This was to be the second International Instructors course with Master Choi in Cork and the excitement was palpable. Organized by Mr and Mrs Dalton to an incredible degree of finesse from an exceptionally fine hotel at a very reasonable cost to a wonderful banquet and probably three of the most exciting days we have ever spent. They have earned our deepest respect and admiration for pulling off such a fantastic event with such amazing success and attention to detail.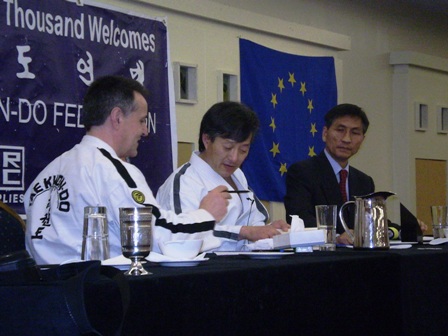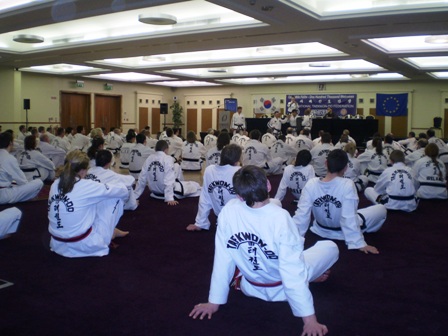 The sessions kicked off on Friday 28th march at 6pm and by 9.30pm we had covered both exercises Saju Magki and Saju Jirugi, as well as Chon Ji, DanGun, Do san and touching on Won Hyo, reintroducing the kehap into the Tul. As soon as Master Choi entered the room you could feel his presence and the excitement building. One of the first things we learned was to pay our respects to the founder Grand Master General Choi Hong Hi, his father, and the founder of Taekwon-Do : we did this by the simple act of performing a silent bow. He is without a doubt one of the most humble men I have ever met and yet he is someone of incredible stature and importance. For me he is the living embodiment of what it means to be a true martial artist. There is no-one on this planet who has more knowledge on the art of Taekwon-Do. His ability to produce power and grace from nothing is a constant source of amazement. His use of humour and stories of his childhood served to put us at our ease. He was assisted by several Masters, mainly Master Wheatly from the U.S.A., Master Harry from England, and Master Styliandis from Greece. They walked among us making corrections and giving assistance in a relaxed and friendly manner. Too soon it was 9.30 and we had run over time without realising it because we were so absorbed in what we were doing - we were having too much fun.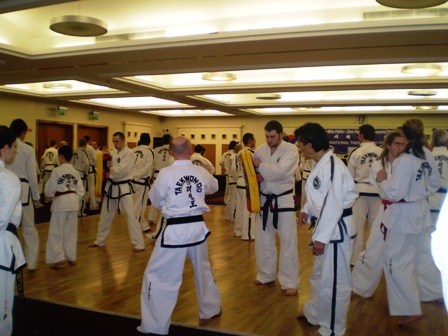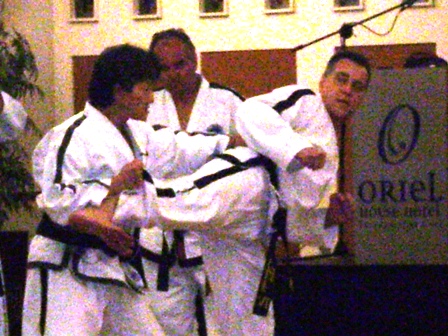 Day two started at 10am with a warm-up conducted by Master Harry, who is always smiling and clearly loves what he does, all of which seems to make you want to be just like him. Master Choi talked about the Do, and how easy it is to practice TaeKwon but how difficult it is to practice TaeKwon-Do. He told us we must try to bring the Do into our everyday lives and become true Martial Artists. He commended Mr Dalton saying he was a very special person who truly lived the Do part of TaeKwon–Do. He told us he found it difficult himself because of his humanity and his human failings but he tried to start each day and do his best to observe the tenets of TaeKwon-Do. We completed Tul Won Hyo to Toi Gye and did work on the turning kick. The attention to detail and finesse was incredible. Again we finished a little over time because we were all so focused on what we were learning and enjoying the experience. Later that evening we attended a banquet and celebrated the 42nd anniversary of the I.T.F. - we even had a birthday cake complete with candles. Master Nicholls arrived and spoke to us about the importance of the etiquette, apologising for his lateness due to flight delays and again he praised Mr and Mrs Dalton for their excellent and considerable work in organising the I.I.C. Several presentations were made to all the visiting Masters and Master Choi was presented with a beautiful hand crafted vase. In his speech he repeated how true a Martial artist Mr Dalton was in every sense of the word, he commented on how he was just a little too young to be made a Master yet but stated that it would happen. He said he was just the kind of person he was travelling the world looking for and if Mr Dalton had not found him then he would have certainly found Mr Dalton. He explained how his TaeKwon–Do family was important to him and how he felt like they were his brothers. He expressed his happiness that TaeKwon-Do was one of the fastest growing and most popular Martial Arts and how he felt at last we were fulfilling his father's wishes by spreading the Art throughout the world. We all sang Happy Birthday to the I.T.F. and Master Choi blew out the candles on the cake which was ceremonially cut by Master Choi, Master Nicholls, Mr and Mrs Dalton, and Master Wheatly. The evening ended on a high note with the presentation of the I.U.T.F. competitor of the year awards, with Eimear Curran getting junior competitor of the year, Moira Mc Elligot taking senior female competitor and Mr Fitzgibbon taking senior male for the second year running.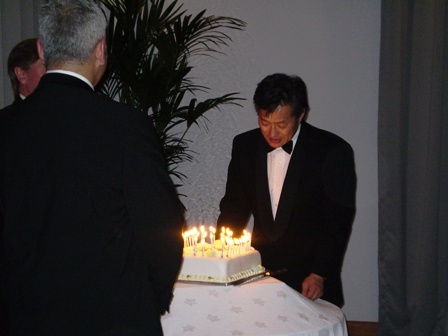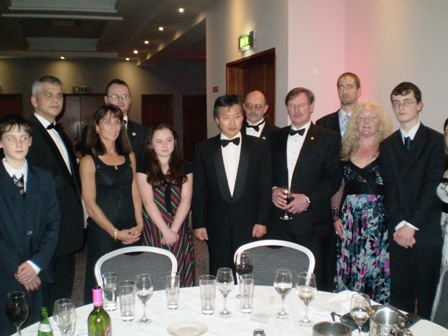 Day three started at 10am and we got straight into it (after Master Choi introduced Master Lee Won Il VIII, a master and close friend from Spain) finishing off Toi Gye and moving on to the three first degree Tul. We completed all three covering all the minutiae - chambering, trajectory, development of power, sine wave. Master Choi stressed that Tul should be elegant and beautiful as well as powerful and precise. They should look nice, have grace and nice lines, and that by combining power and technique with elegance and grace we can achieve this. We worked on the back kick in some detail, with the point being made that if you turn the body too much it becomes a back side kick and not a back kick. All of a sudden it was all over and Master Choi commented that Mr and Mrs Dalton had made him too welcome and he didn't want to leave. He seemed genuinely sad to have to finish up and said he was having too much fun - I think we all were. Then Master Lee Won Il addressed us in Korean, which Master Choi translated for us, and delivered a rousing and touching speech. He said how watching us made him want to go get his Dobok and join in, and he brought many people close to tears. He praised Master Choi and Mr and Mrs Dalton and left us all feeling renewed. The whole weekend left us all feeling a regenerated love of what it is we do and teach, a new sense of purpose and enthusiasm for the Art and a desire to be better not just at Taekwon–Do but to be better people all round. Master Choi and Master Lee Won Il posed for photos with each group and finally departed leaving us with a sense of loss and a desire to do it all again at the next available chance.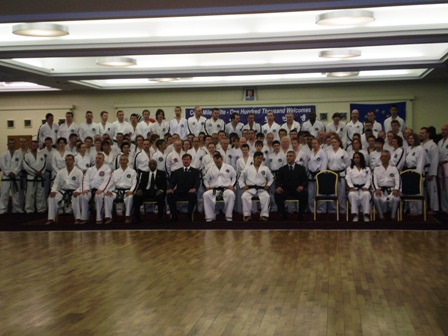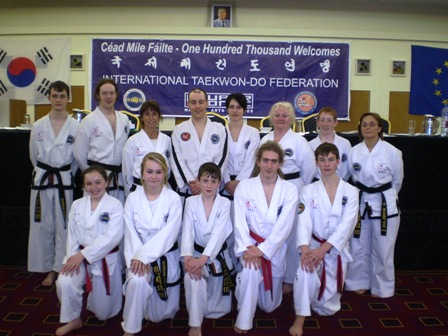 The sadness at the end was quickly replaced with great joy and excitement as word spread like wildfire that on Monday at a private ceremony - Master Choi had promoted our President Mr Don Dalton to Master. He referred to him as the Jewel in the I.T.F. crown. There is no harder working or more deserving person – Congratulations Sir - we are all very proud of you.
On a personal note - I have always gained from attending seminars and courses. And there is always something new or different to be gleaned from attending them whether it is as simple as a fun new warm up exercise or the clarification of a technique. I have trained with many different Masters in several countries but no one has ever inspired me the way Master Choi does. His presence in the room fills it to capacity, and I hang on his every word. I want to know more and it's a hunger that never goes away. I look forward to the next opportunity to train with The Master again.
( Sandra Doyle )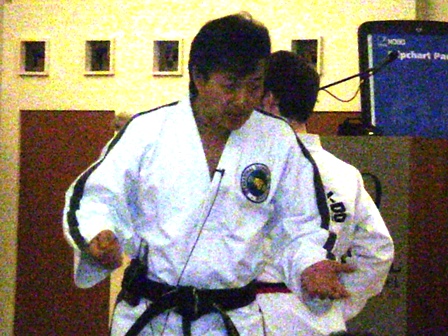 ---
St Patrick's Day Parade March 2008
St Patrick's Day is a time for celebration and parades and since this year the theme of the local parade in Loughrea was sport and fun, it was an ideal opportunity to celebrate two and a half years of Loughrea Taekwondo Club. There was nervousness beforehand about whether we would have a reasonable turnout, whether the banner and flags would be ready but most of all would we get the traditional St Patrick's Day weather of hail, rain or snow - our traditional doboks would not be ideal for such conditions ! But guess what - the weather in Loughrea was beautiful; cold but bright and sunny. We assembled in the car park, all 18 of us (along with all the other participants ; many childeren from different schools and clubs and assorted vintage tractors and other vehicles). We added a bit of colour to our look with green hats and shamrock, and Irish flags painted on all faces courtesy of Issac's Mum.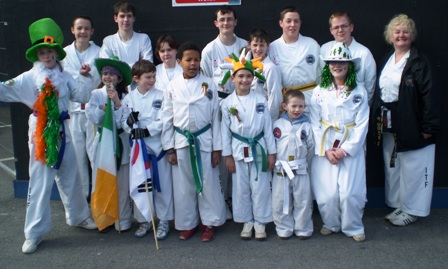 Soon the parade was off. We marched proudly up the main street of Loughrea (between groups from the mini-rugby club and the Brownies) demonstating a few basic moves for the crowd. And at the end, in front of the stand and parade officials, we gave a brief demonstration of our art and Mrs Doyle accepted a small trophy acknowledging our participation in the parade.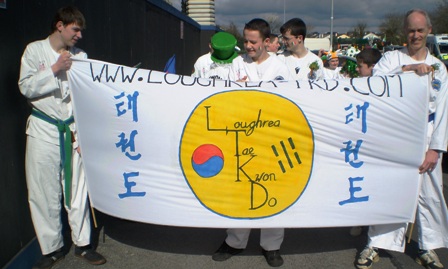 Thank you to those who gave their time to proudly promote their club. Maybe this will become an annual event.
---
Master Maidana Seminar February 2008
Despite the fact that it was a Tuesday evening a good number of Galway students turned out for the fantastic opportunity to train with Master Maidana. A student of Master Galarraga, and the technical advisor to the Irish United Taekwon-Do Federation for the International Taekwon-Do federation, he travelled all the way from Argentina to teach in several venues around the country. Fortunately for us one of those venues was in Galway city.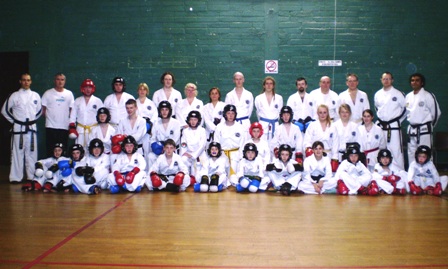 We started with a good warm up and some light stretching exercises before we moved on to patterns training. Beginning with the two exercises Saju Magki and Saju Jirugi, He talked about technique and power and the importance of hip twist in generating power. Master Maidana stressed the importance of attention to the fine detail when performing patterns. He worked through the colourbelt patterns from Chon-Ji to Joong-Gun covering all in great detail. He made several observations which were informative and interesting, leaving us all with more knowledge to help us improve. We moved on to sparring techniques and using the kick shields we put together different techniques and worked on speed. He discussed the importance of partner work and how the person holding the kick shield was equally important as the person practicing the technique. The atmosphere was fantastic with humour and fun playing a big part of the evening. One of the things he stressed was the importance of the etiquette and the respect we need to have and display towards each other- this is what makes us truly martial artists and not just sportsmen. He was assisted by Mr Dalton, who introduced him at the start and thanked him at the end which came too soon- despite the fact that it was after ten when we finished. Mr Dalton commented on how every time he attends a seminar his love for Taekwon-Do is renewed, how it gives him fresh enthusiasm for teaching and how important it is to him to be a student as well as an instructor. He is certainly not alone in this. These kinds of training sessions are opportunities not to be missed by those who are serious about their training, there is a wealth of knowledge to be gained. We are lucky to have the I.U.T.F. working so hard for us to bring this knowledge to our door step instead of having to travel abroad and should not miss any opportunity to improve that comes our way.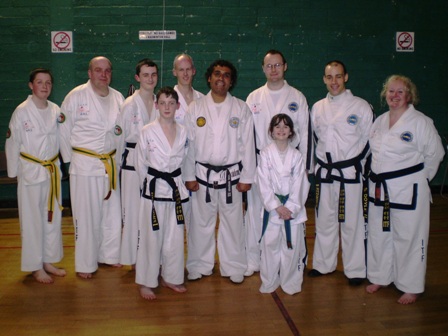 ---
The Christmas Party, December 2007
Loughrea Taekwondo Club's first Christmas Party was held in The Meadow Court Hotel on Saturday 22nd December. It was very well supported by the students and their families and turned into a very enjoyable night. The food was excellent - there were christmas crackers and party hats. After the meal Mrs Doyle presented the club's awards for the year : Jason Daly received the junior competitor of the year award and Mr Doyle was awarded the trophy for senior competitor of the year. Nathan Collins deservedly won the junior student of the year and Mr Doyle the senior student of the year. There were also a few special awards of thanks for those who had helped with the club during the year - Ciaran Doyle, Mr Paul Doyle and Mr Gerry Daly.
Then the real reason why most had attended began - the Karaoke. We had singers of all ages - many different styles - soloists, duets and groups........ And assorted dancing to accompany the music - congas and line dancing ........... It can't be described properly in words, so see the photos for the true experience. The music went on to the early hours of the morning and everyone there had a great time.
---
At the recent grading on 14 December all 14 students who took part passed. Congratulations to those who were promoted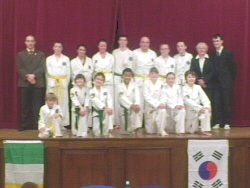 ---
THE IRISH NATIONAL CHAMPIONSHIPS 24TH-25TH NOVEMBER 2007.
On Saturday the championships kicked off with the black belt competitions. The standard was, as usual very high, with many competitors from all over including Germany, Holland, Italy, Belgium, and the U.K. Master Hogan and Master Wolf were there with the English competitors, and Master Leica was there with the Italians. It was a great day with plenty of talent on show, Eoghan Doyle took silver in his Patterns division, Ciaran Doyle did well but finished out of the silverware this time. The day ended with the announcement that Ireland was to face England in the final of the Celtic cup first thing on Sunday morning.
It was a little after ten when the finalists lined out on Sunday a six man English team led by Mr Richard Belle ( current world champion) faced a five man Irish team which was led from the front by Mr Sean Keane and included Mr Leon Brydon, Mr Jon Mackey, Mr David O Sullivan and Mr Kevin Larkin. Mr Fitzgibbon was the referee and took his place in the ring, doing a great job and being completely professional as always. The sparring was fantastic and exciting to watch with all competitors giving 110% for their team and an absolutely electric atmosphere which set the tone for the rest of the day. It finished 2 ˝ points each and both teams had to nominate for a play off. Mr Richard Belle went in for the English and Mr David O Sullivan for the Irish. After a great fight Mr Belle emerged the victor. As always the teams finished as great friends and congratulated each other on a truly great competition. They set a fine example to all the aspiring young colourbelts waiting to compete.
Mr Marc P. from Germany did a fantastic display, performing his world championship gold medal winning musical Pattern to an enthralled audience which took them to their feet cheering and clapping when he finished. It was a spectacular display of beautiful technique and athleticism. Click here to see a video of this performance.
Loughrea competitors did themselves proud on the day with Mr Doyle and Laura Doyle both doing well but finishing out of the medals, and Mr Brendan O Connor winning a bronze for Sparring and David O Connor winning a silver. Congratulations to all - well done!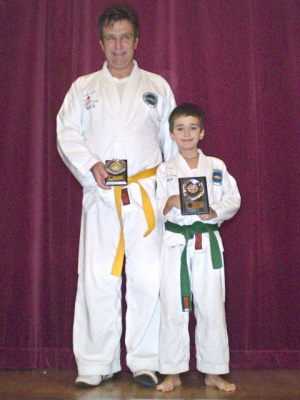 ---
Congratulations to Jason Daly and Kayla O'Connor who took part in the world Kickboxing championships in Germany in August '07. Jason got a bronze medal for third place in the sparring. Kayla fought very well but was unlucky.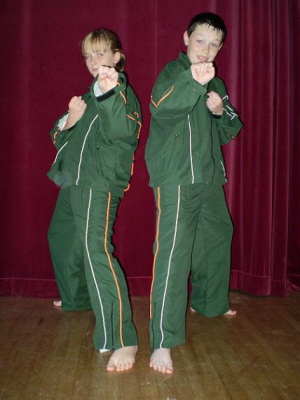 ---
At the Leinster Open Championships in October Loughrea was represented by 3 competitors. Mr. Doyle fought well to earn second place in the over eighteen sparring section green to black stripe
---
Congratulations to Kayla O'Connor who won third place in the patterns section of the Puma UK Championships in June. Well done Kayla, we're very proud of you.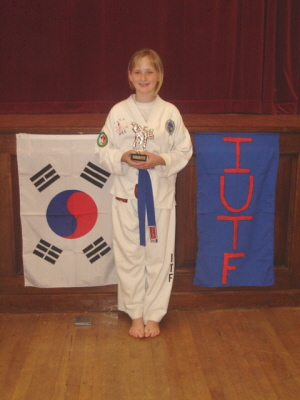 ---
Find out more about the Big Raffle to raise funds for our students representating Ireland at the world Kickboxing Championships.
---
The Doyle family attended a seminar given by Master Ogbourne (7th Dan) and Mr. Black (6th Dan). Click here for a report of this excellent event.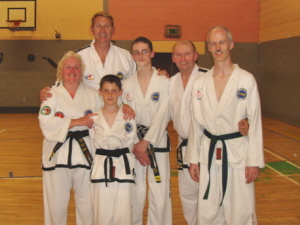 ---
The Connacht Open Taekwondo Championships were held on Sunday 6 May in Gort. 8 students from Loughrea took part and won 6 trophies. Congratulations to all.
---
At the recent grading on 30 April all 15 students who took part passed. Congratulations to those who were promoted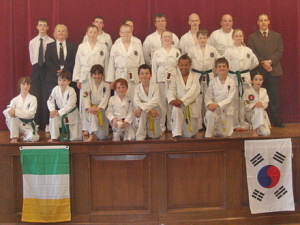 ---
Your instructor, Sandra Doyle, passed her recent black belt grading and has been promoted to 2nd Dan. Her 2 sons were also graded at the same time - Ciaran was also promoted to 2nd Dan and Eoghan was promoted to 1st Dan
---